Sunday Observer notches 87
The 87th Anniversary of the leading English weekly the Sunday Observer, which falls on the fourth of February is a momentous occasion for all of us in the staff since it falls on a day where the nation celebrates Independence.
E.J Darley
(in charge
at the start)
Goerge Winter

Dr. Christopher
Elliott

A. M. Ferguson

John Ferguson 1865

R.H. Ferguson

Charles Tower

C. Drieberg
(1923-1924)
P.B Marshall

J. D Quirk

H. A. J. Hulugalle
(1930-1931)
H. D. Jansz
(1931-1952)
Tarzi Vittachchi
(1953-1961)

Denzil Peiris (1961-1970)
Ernest Corea (1970-1973)
Philip Cooray
Lionel Fernando
(1973-1977)

Harold Peiris (1977-1988)

Leslie Dahanayake (1988-1990)

H. L. D.
Mahindapala (1990-1994)

Ajith
Samaranayake (1994)

Lakshman
Gunasekara

Jayatilleke de Silva (1999)

Rajpal
Abeynayake (2006)

Being a grade seven student I still remember how my English tutor made it a point to read out the Sunday Observer editorial saying it is an important literary collection which is written in refined language, focusing on a current issue and ideal for a blossoming pupil to read.
Although it did not occur to me what she really meant back then, since there were a number of other English publications in existence, when I started my career as a cub reporter I realised the distinguished qualities of this decades old newspaper.
It was clearly noticeable that the paper was drawn to academics, artistes, the political elite, members of the judiciary, business tycoons and English educated civil servants and teachers - the Sunday Observer is a centre of attraction.
Although a host of rival publications emerged in the newspaper industry over the years, the Sunday Observer retains its undisputed position as the most widely read English weekly in the country.
The main reason is the cornerstone of its editorial policy which is national reconciliation, religious and ethnic and racial harmony. The Sunday Observer not only provides readers with news, views and features but also insightful articles, fulfilling its multiple roles as an educator, entertainer as well as uncompromising critic on socio-cultural and economic affairs.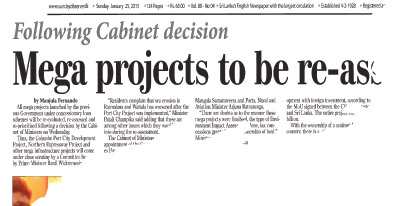 Another secret behind the long earned reputation of the publication is the contribution made by the top echelons of the local media fraternity who steered her through the decades.
Leading names such as Tarzy Vittachchi, Denzil Peiris, H.A.J. Hulugalle, H.D. Jansz, Ernest Corea, Philip Cooray, Lionel Fernando, Harold Peiris, Leslie Dahanayake, Ajith Samaranayake, H.L.D. Mahindapala have entered history as those who have rendered an unblemished service to the field.
Also contemporary journalists such as Lakshman Gunasekara, Jayathilleke de Silva and Rajpal Abeynayake have served as Editors from time to time.
History
Despite the current tradition of selecting high quality editorials and features, the paper started as the Observer and Commercial Advertiser on February 4 , 1834.
Prior to the Sri Lankan Editors, the British served as Editors of the Observer. Among them were E.J. Darley who was in charge when the paper was launched, George Winter, Dr. Christopher Elliott, A.M. Ferguson (1859), John Ferguson (1867), R.H. Ferguson, Charles Tower, C. Drieberg (1923-1924), P.B. Marshall and J.D. Quirk.
When it was taken over by a generation of local editors who were on par with their English predecessors, they carried on the legacy, inspiring generations of readers and people.
The Team
Another distinctive feature about the Sunday Observer is the team spirit of its editorial staff. A team of carefully picked reporters, sub-editors, graphic artists, desk heads and support staff has enabled this publication to bring out exceptionally good reading material every weekend, a reason we are proud of.
The present Editor-in-Chief Dinesh Weerawansa is a career journalist. After he assumed editorship of the Sunday Observer in 2006, the newspaper achieved notable improvement in being in line with national interests.
Associate Editor Dudley Jansz, who had the privilege of English education from his infancy is more like a headmaster noticing linguistic errors of the junior staff.
Deputy Editor S. Ananda Kumar is like a caring father to anybody, who would assign and assemble the articles on the appropriate page providing due prominence.
Senior Journalist and former Associate Editor Pramod De Silva is a major contributor.
The team of experienced reporters led by News Editor Manjula Fernando, Ranil Wijeyapala, Uditha Kumarasinghe, Dhaneshi Yatawara, P. Krishnaswami, Jaliya Wijeyekoon, Naalir Jamaldeen and this writer strive hard every week to decorate the paper with scoops and rare interviews.
They are backed by veteran Sub Editors Fahima Farisz, K.D.M. Kittampahuwa and Benzy Roche.
The Features section functions under the stewardship of veteran literary scholar R.S. Karunaratne and supervised by Features Editor Ruwan Godage and another veteran in the scene Carol Aloysius have been contributing for a long time. Cub reporters Husna Inayathulla and Sureshni Pilapitiya contribute in their own way to add glamour to the paper.
The business and financial news is gathered by the newspaper's Business Desk comprising Acting Business Editor Sanjeevi Jayasuriya and experienced business writers Gamini Warushamana and Lalin Fernandopulle.
The Sports Desk functions under the guidance of A.C. de Silva, Associate Editor (Sports) and the team comprising Ranjan Anandappa and Sajeewa Jayakody.
Journalist and broadcaster Mahes Perera's contribution is invaluable with her experience in the field of print and radio journalism.
Jagath K.G. Punchihewa, the cartoonist cum artist is a veteran in the field of applied arts in Sri Lanka. His true-to-life caricatures and sharp-witted cartoons add value to articles and features making a lasting visual impact in the minds of readers.
Young and vibrant Anuradha Kodagoda's attempts to cater to the young with the friendly magazine Youth Observer for the teens and the young adults is remarkable, while Dehini Pathiranage helps the team of the Junior Observer.
The layout department's contribution is an essential ingredient of the overall production process which adds excellence to the paper. It functions smoothly thanks to its talented team of graphic artists including Graphics Executive Mahil Wijesinghe, Chinthaka Balasuriya, Navindra Merinnage, Roshinie Ranaweera, Saman Chandra Kumara, Asitha Bamunuarachchi, Indika Edirisinghe and Sanduni Fonseka, while Isuru Bogahawatta chips in to designs page 1 of the Sunday Observer.
The efforts by Rohana Jayalal to compile a batch of foreign news pages is appreciable.
The smooth functioning of the editorial office is also due to much support from the Editor's Secretary Sujani Perera and P.A. Sharon Palihawadana, clerks Ravindra Jayaweera, Nalin Surendra, Amila Chandrasiri, Sampath Manamperi and Office Assistant Chandima Munasinghe.
Support of the Terminal Operators Oshani, Fahiriya, Gaya and Iranthi is immense.
Last but not least the contribution of the Sunday Observer Photo Desk is admirable. The desk comprises Chinthaka Kumarasinghe, Thilak Perera, Vipula Amerasinghe and Susantha Wijegunasekara.