Sri Lanka achieves record tea exports
Sri Lanka Customs data analysed by Siyaka Research confirms that Sri Lanka exported a record 327.8 million kilograms in 2014 up three percent compared to the 2013 figure of 319.6 million kg. The previous record was 322.5 million kg shipped in 2011. The value of tea exports was the highest ever at $ 1.64 billion up on the 2013 record of $ 1.55 billion.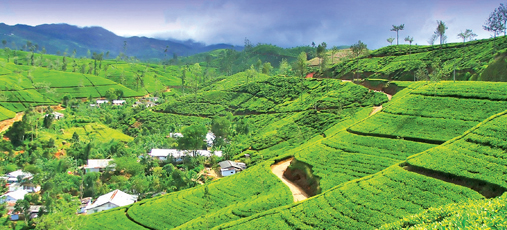 Following the stabilisation of the Rupee-US Dollar exchange rate in 2014, the value of tea exports was Rs. 212.9 billion against Rs. 199.4 billion in 2013. This is a Year-on-Year (YoY) gain of four percent of value on a +3% gain on quantity. Bulk tea exports (127 million kilograms) declined to 39% of total exports, compared with the 2013 figure of 129 million kg, which ws 41% of total exports. In the value added segment, tea in packets (164 million kg) rose to 50% of exports from 156 million kg (49%) in 2013. Tea bags also improved YoY from 25 million kg (8%) to 28 million kg (9%) in 2014. Total value added exports, however, including green tea and instant tea was the highest ever at 61% of exports and had improved on the 2013 performance of 59%.
Middle East and North Africa continue as the dominant region for Ceylon Tea exports with the absorption of 57% of tea shipments.
Russia and CIS absorbed 21% of exports, down from 22% in 2013. Turkey as a bridge between these two blocks has grown as an important regional hub. Exports to that country are at the highest ever, 44.7million kg, up 39% on last year's figure of 32.9 million kg.
In 2014, 14% of exports went to or through Turkey. The other regional hub, the UAE has also maintained its position having absorbed 19.8 million kg (+10), against 18 million kg the previous year.
Countries such as Angola, Cote d'Ivoire, Nigeria, Congo, Sierra Leone and others have absorbed more than six million kg of Ceylon Tea in tea bag form. They account for 21% of Sri Lanka's total tea bag exports, which was 28.7 million kg in 2014. Russia and CIS (67.9 million kg) continues as a prime region with absorption of 21% of all exports. Russia, the prime terminal market received direct imports of 44.1 million kg.
Turkey, however, though largely a hub market, imported 44.7 million kg and absorbed 14% of exports. Iran followed, with quantities sharply down from 39.6 million kg in 2013 to 30.1 million kg in 2014. Iraqi imports have grown from 22.5 million kg to 24.8 million kg. UAE imports increased from 18 million kg to 19 million kg. With all its problems, 12.9 million kg of tea was exported to Syria compared to 21 million kg in 2013, a drop of 36%. Libya followed with imports almost doubling from 6.6 million kg to 12.6 million kg. Kuwait, however, was sharply lower at 16.1 million last year. Exports to Japan was steady at 9.1 million kg.