Astana Expo to address energy challenges
The prestigious international exhibition Expo 2017 will take place in Astana in Kazakhstan from June 10 to September 10, 2017.
The 'Astana Expo 2017' exhibition will be held under the theme 'Future Energy' to reflect the energy challenges and opportunities in the 21st century. The event will be attended by over five million local and international participants from 100 countries and organisations.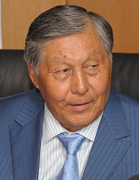 The exhibition will provide a valuable platform that will help showcase the latest advancements in the areas of energy, experimental design, environmental technology, infrastructure, construction and tourism.
During a recent visit to Sri Lanka, Promoter, Expo 2017, Iskakov Sapar said, "The Republic of Kazakhstan is proud to be hosting the world-famous Expo 17 exhibition in a few years' time. We are making preparations to conduct the event and we look forward to the participation of many countries from the Asian region."
"The event will showcase the best of Astana and Kazakhstan while shining a light on the latest energy developments and initiatives available in the world. This exhibition will also help Kazakhstan and countries participating in the event, to make a smoother transition towards a brighter and greener economy and future," he said.
Hosting 'Astana EXPO 2017' is a significant milestone for Kazakhstan and the event will create global awareness about the country and will highlight its unwavering commitment to energy efficiency.
Kazakhstan is the first post-Soviet country selected to host the exhibition, a global event that focuses on making knowledge and development in sustainable energy, universally accessible to all.
One of the core challenges that the exhibition will address, will be the global effort to reduce carbon emissions by controlling the use of energy sources and using new technology to reduce the demand for energy across various industries.
The exhibition will also shed light on the global status of energy security, energy access, pollution and global warming.
In 2017, Kazakhstan will celebrate its 20th anniversary of independence and 'Astana Expo 2017' is a symbol of the determination and drive of the Khazakhstanian people as they embark on a new era of development and growth.
A part of the nation's 2050 strategy for growth is to reduce carbon emissions in the electricity sector by 40%, the share of gas-burning plants in electricity generation by up to 30% and the share of alternative energy sources in electricity generation by at least 50%.
Kazakhstan is rapidly evolving into a nation that is pioneering the use of energy efficiency at a national level, especially in urban development, transport and energy distribution.