BoC brand value increases to Rs 30.83 b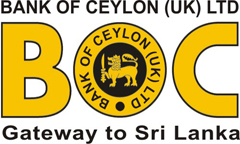 The Bank of Ceylon has received global recognition again as one of the top 1,000 banks in the world (with number one country rank), from theworld's premier banking and finance Magazine, The Banker.
One of the most significant awards received by Bank of Ceylon (BoC), which celebrated its 75th anniversary last year, was winning Asia's Best Brand award, organised by the Chief Marketing Officer's Council (CMO Council) of Mumbai, India.
Asia's Best Brand Awards are judged by the Global Research Cell of the CMO Council and this award was presented to the Bank of Ceylon after evaluating its 'Mind Share', which indicates a brand's strength inside the minds of customers, 'Market share', which shows a brand's strength in the market in terms customer's buying behaviour and 'Commitment share' which indicates a brand's strength in encouraging customers to buy that brand in the future.
Brand Finance Lanka, a subsidiary of Brand Finance network (UK) has ranked the Bank of Ceylon as the number one brand in Sri Lanka for six consecutive years and has set a record being the only business to have become number one continuously. The Bank of Ceylon's brand value increased to Rs. 30.83 billion in 2014.
"Seventy years in the banking sector in Sri Lanka has not been an easy one but we have managed to maintain the number one position throughout these years. Our strength and stability is thoroughly time tested," General Manager Bank of Ceylon, D.M. Gunasekara said.
"We have covered all most all aspects of what a bank should be, in terms of brand value, corporate governance, reporting, international presence, international correspondents, corporate customer relationship building, enhancing productivity and stakeholder wealth," he said.