Noritake crafted Holy Communion bowls for Papal visit
The Holy Communion bowls for Pope Francis' visit were manufactured by Noritake Lanka Porcelain Ltd (NLPL).
The brilliant white porcelain circular bowls were made from porcelain sourced 60% in Sri Lanka and 40% from imported materials and has the lettering 'Canonisation of Blessed Joseph Vaz. 14 January 2015'.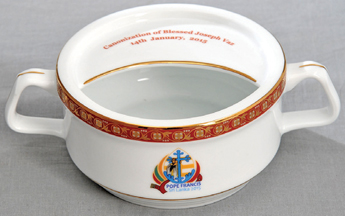 Twenty-four karat gold, lead and cadmium-free pigments were used in the decoration of the bowls.
Of the 1,300 bowls which were manufactured, the Pontiff used one while the others were used by the Catholic clergy when giving Holy Communion.
Deputy Chairman and Managing Director of Noritake Lanka Porcelain (Pvt) Ltd (NLPL) Yoshinari Shimaya said, "We're deeply honoured and humbled at being chosen to manufacture the Holy Communion bowls. Several detailed discussions were held between the Archdiocese of Colombo and our team in the past few months with regard to the artistic and technical specifications of thebowls".
Noritake Lanka Porcelain (Pvt) Ltd sources 35% of its raw materials from Sri Lanka. Its factory at Matale, one of the largest production facilities in the world produces high quality tableware under the brand Noritake.
Among the locally sourced raw materials are Quartz from Galaha off Kandy, Felspar from Owala off Rattota, Dolomite from Digana off Kandy and Calcite from Balangoda.
Nearly 80 percent of Noritake's local production is exported to markets in over a hundred countries including USA, UK, Japan, the Middle East, Australia, Canada, Germany, Mexico and Korea. The remaining 20 percent is marketed locally through its outlets at the flagship store in Colombo 7,
Kirulapona, Wattala, Matale, Pannala and the Bandaranaike International Airport.