Biz Briefs
BoC gets new Chairman
Ronald C Perera, President's Counsel, has been appointed as Chairman, Bank of Ceylon by Finance Minister Ravi Karunanayake. He assumed duties on Wednesday.
Perera was educated at St. Joseph's College, Colombo and is a LLB graduate of the University of Colombo and also holds a LLM in International Trade Law from Northumbria University.
Perera was appointed a President's Counsel in 2012. He was a Director of the Bank of Ceylon previously.
Perera is an experienced lawyer with wide practice in the original courts and in the Court of Appeal and Supreme Court.
Perera is the son of former Minister of Justice, Lands, Science and Technology the late Paul Perera, PC and of Mrs. Kulaseeli Perera, former Chairman of the Western Provincial Council.
---
Samsung earnings decline
South Korean tech giant Samsung Electronics reported its first annual earnings decline in three years.
Its net profit fell 27% from a year earlier to 5.3 trillion won ($4.8 billion; £3.2 billion) in the October to December period, in line with expectations. But its profit of 25 trillion won for the year, down from a record 36.8 trillion won in 2013, was the lowest since 2011.
The world's biggest smartphone maker has been facing stiff competition from Apple and cheaper Chinese rivals. Revenue in its mobile business, which was the driver of record earnings in 2013, tumbled 23% in the fourth quarter from a year ago, while for the year it fell 19%.
Overall, the company's sales fell 11% in the fourth quarter. Despite its earnings coming within market expectations, the conglomerate's shares still fell 1.6% in Seoul on Thursday. - BBC
---
Apple posts biggest quarterly profit in history

US technology giant Apple has reported the biggest quarterly profit ever made by a public company. Apple reported a net profit of $18 billion (£11.8 billion) in its fiscal first quarter, which tops the $15.9 billion made by ExxonMobil in the second quarter of 2012, according to Standard and Poor.
Record sales of iPhones were behind the surge in profits. Apple sold 74.5 million iPhones in the three months to December 27- well ahead of most analysts' expectations.
In a conference call with financial analysts, Apple's chief executive Tim Cook said that demand for phones was "staggering".
However, sales of the iPad continued to disappoint, falling by 18% in 2014 from a year earlier.
The demand for Apple's larger iPhone 6 Plus model appeared to help boost profits and increase the iPhone's gross profit margin - or how much Apple makes per phone by 2% to 39.9%. - BBC
---
Global FDIs decline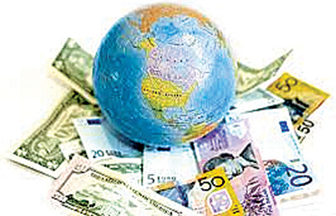 Geneva: Global foreign direct investment (FDI) inflows declined by 8 percent in 2014 to an estimated US$1.26 trillion, the latest UNCTAD Global Investment Trends Monitor reported.
China became the world's largest recipient of FDI while the United States fell to the third largest host country.
Among the top five FDI recipients in the world, four are developing economies.
The UNCTAD report analyses the most recent trends in global investment and assesses their prospects for 2015.
It covers FDI trends in developed, developing and transition economies.
---
Arjuna Mahendran assumes duties
Arjuna Mahendran assumed duties as Governor of the Central Bank of Sri Lanka on Monday at the Governor's office in Colombo. His appointment was made by President Maithripala Sirisena on the recommendation of Minister of Finance Ravi Karunanayake as per the provisions of the Monetary Law Act. Accordingly, he will also function as the chairman of the Monetary Board of the Central Bank. Here Mahendran places his specimen signature to be used on currency notes.
---
Arjuna Mahendran assumes duties