The Siriwardena Family:
A remarkable triumph
On January 23 veteran Sinhala dramatist Rajitha Dissanayake offered what can indubitably said as a story of our times; a critique and scrutiny of what we now perhaps treat as 'values' visible in Sri Lankan society. Seated in the gentle darkness at the Lionel Wendt that evening I witnessed Dissanayake's 'Siriwardena Paula' (or as it could be titled in English as 'The Siriwardena Family' on its opening night.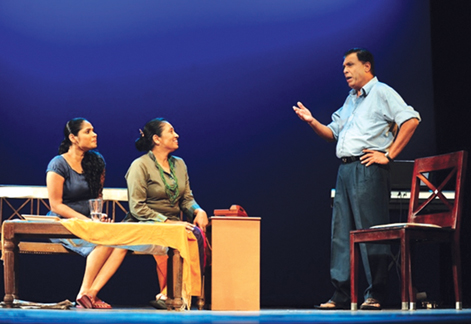 Dissanayake, is a dramatist who has made a name for himself that holds 'signification' to mainstream theatregoers. He is a dramatist who clearly addresses the audience through his plays.
He does not do translations of foreign plays, but creates original plays written by him. He does not pepper his works with showy intellectual bombardment through neither overdone erudite language nor 'theoretically experimental' devices of stagecraft.
His plays are critiques of what can be seen in the climates we inhabit. As a practitioner of the art of proscenium theatre he is very comfortable with his chosen domain and knows what his audience would find engaging in terms of a 'theatrical critique of about Sri Lankan society.'
I had absolutely no idea what the premise of the story was about. And then through the gentle darkness descended after the final bell, there was an indication of an element of what is contained in the story –modern Sri Lankan music. It instantly struck a chord in me as what sounds to be in the likeness of what one hears from a musician as Indrachapa Liyanage. What I heard is perhaps what may seem as modern Sri Lankan pop-rock music.
The physical premise of the story is the household of an ordinary family, the Siriwardenas. The father played by Dayadeva Edirisinghe, is a pensioner who dearly hopes to see his son –Supun, who has just sat for the Advanced Level examination, and awaiting results, qualify to read for a degree in engineering.
The mother, Lalitha, played by Jayani Senenayake, is a school teacher who has many dreams riding on the abilities of their son as a vocalist-cum-musician since he has proven he is very likely capable of reaching 'stardom' soon. A stardom perpetrated by television channels through competitive tournaments in the form of talent search contests which Sri Lanka has been seeing booming since the last five or six years.
The entire story unfolds for the viewer in the Siriwardena home, where 'change' in appearances, outlook, aspirations and also furniture, is propelled at paces that finally show how unsustainable it is to maintain shimmering facades of 'development' which are gambled on 'investments' yet to reach fruition.
Getting strung into a credit culture for the 'thrill of putting on a show' can be a disastrous 'development' for people who make sudden leaps outside their known sphere and path to progress. The Siriwardena Family is a critique of our times in many different ways.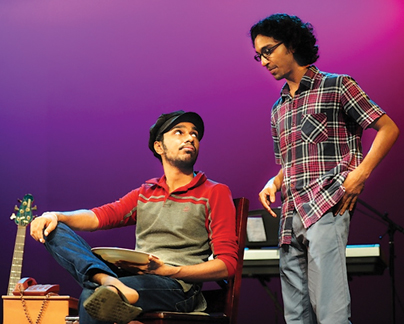 Even before Supun makes it as a finalist in the 'Super Mega Star' contest television show, in which he is believed to be a possible clincher of the top prize, his mother and elder sister Samanthi begin flirting with dreams of grandeur. It is an all too common a case of counting one's chickens before they are hatched, a scenario which is all too common to human nature. The play shows how young talent is packaged and commoditised and thrown into a whirlwind of what seems instant upward social mobility to new heights. It seemed like young Supun was a ball thrown into roulette table; he on his own had no single handed says in how his affairs should be handled in the wake of the glimmers of provincial fame that grabbed him. And the family itself were made to sit as unconscious players at a roulette table, not knowing how fate was playing on their naiveté.
The play can be acclaimed for the unpretentiousness it offers as a simple narrative with a deep and timely message for the public. It mirrors a great deal the ludicrous star status worshipping society that Sri Lanka is becoming, with some perilous results simmering beneath the veneer of the jubilance and fanfare. This is a story that must be told. The Siriwardena Family is Dissanayake's best yet from what I have so far watched from his growing body of work.
Hope
Napoleon Bonaparte is believed to have said, "A leader is a dealer in hope." And as a schoolboy I still remember in the main hall of Wesley College at Monday morning assembly how our Principal at the time the late Dr. N.A.B. Fernando once told us he had read how a human being is believed to be able to survive enduring starvation up to three weeks, dehydration up to three days, and deprivation of air for three minutes, but, he said is unlikely to survive even three seconds if completely deprived of hope.
Years later on the evening of October 4, 2002, on the day I gave my most important speech during my school career, I began my words with a little poem by Oliver Goldsmith which I found especially for the occasion from the book A Pageant of English Poetry, from my grandfather Edmund Eramudugolla's library. It is one that I have come to be rather fond of.
The poem is as follows –
'To the last moment of his breath,
On hope, the wretch relies;
And e'en the pang preceding death,
Bids expectation rise.
Hope, like the gleaming taper's light,
Adorns and cheers our way;
And still as darker grows the night,
Emits a brighter ray."
Cherished possession
'Thus said Oliver Goldsmith of what is possibly man's most cherished possession' I said that evening in my speech.
The significance of giving 'hope' to the people when all seems lost is something executive from the TV station in The Siriwardena Family does masterfully. When tragic circumstances dictate that Supun be removed from the contest Jayantha puts on the table a new deck of cards, a new gamble.
This flickers the only possible glimmers of hope for Lalitha who in her hapless desperation is willing to believe there is hope for them to get out of the web of problems they have got themselves into by considering competing in the latest reality talent show –the 'Super Spiritual Family'.
Lalitha prepares to buy into the blarney of the new proposition as it is the only way she can fight the advancing despondency. She needs to believe there is hope. Mass media, as an industry, has to a great extent has now become belief creators and hope givers to the public.
The sound voice of reason and old values as portrayed by the father of the family gets outvoted and set aside from the outset. But it is his strength of character and determination of spirit within that may finally offer any real hope for the family as the lights dim to signal the play's end.
I am left to wonder if the playwright intended to propose that today's Sri Lankan public is at a crossroads where upward social mobility for people like the family in the play is no longer perceived as possibly only through what was bestowed as a legacy to the common man through the efforts of the late C.W.W. Kannangara.
When looking at the overall substance of the story I feel that within the playwright is a Centre Rightwing voice who while rejecting Far Right traditionalist dogma does not subscribe to extreme neoliberal policies either.
Friends can help one to succeed in life or shove one in the path to damnation. Supun the star to be played by Kasun Chathuranga has two such notable figures. Lakshitha played articulately by Pasan Ranweera (of Puswedilla fame) who is the voice of levelheadedness and Ruwan played by Devinda Wickremasinghe who represents a Sinhala hegemonic outlook which seems to be presented as an output of the politically populist patriotism which we have seen in the mainstream public discourse.
But there was a point to his thinking that made him seem to me a remarkable son of the soil in his disposition of defining what he wants he believes their 'platform' should be in the international sphere.
Identity
He envisions his identity as a musician who will perform to white westerners (colloquially referred to as 'Suddho'), not songs in English but in Sinhala. Ruwan is one who believes that it is possible to create audiences and listenership for Sinhala songs among non Sinhala speaking westerners.
For the record it must be noted that Rookantha Gunathilake's hit song Diganthaye did make it to the US World Chart Show in the 90s. Ruwan represents a character who refutes western supremacy over what is saleable as art to international audiences.
In that grain of Ruwan I see a salutary patriotism seeking a practicable antithesis to the neo-colonialist domination over popular art as commodities in a 'world market'. However grand and patriotically praiseworthy his young visions may be, all it takes finally is teenage recklessness, booze and a van on lease, to bring everything crashing down.
On the performance front I would say that opening night jitters were visible in several players. The cast was composed of different levels of stage talent –some seasoned and others relatively new. Dayadeva Edirisinghe, Jayani Senanayake, Shyam Fernando and Nadeeshani Peliarachchi delivered their roles commendably.
There were some instances where some players seemed to be not fully synced with the moment their character is mean to play in. Anuradha Mallawarachchi's opening moments onstage as Jayantha is an example.
Wickremasinghe opened his lines greeting Supun's parents with 'Good morning uncle, good morning anti' (the word 'anti' being written here to represent the common local variant spoken by Sinhala monolinguals for the English word 'aunty') but thereafter, just like every character not of the Siriwardena household, addressed Lalitha as 'teacher'.
Thus Wickramasinghe fumbled with his opening says my observations. The actor who delivered his role most solidly with not even a hair out of place was Shyam Fernando who appeared towards the end. Also the young actors who played the roles of Supun and his band must be commended for their performance as musicians. Apart from the aforesaid actors the cast comprised of Charindra Chandrasena, Vijith Nuwan, and Thejitha Saubhagya.
The play reaches an end where there is some deep introspective thought projected by a moment between the father and mother, with some simple lines which reverberate with meaningfulness.
That spoke much of the playwright's skill as a person who can bring to the audience profoundness through simple language ripe with metaphoric meaning. "Do you see me Lalaitha?" asks the father from his wife to whom he says to the effect that although people have their eyelids open their minds are adrift in a form of sleep and afloat with dreams.
He says how soothing sleep can be to people. This is telling of how people would opt more for momentary respite than having to face the drudgery of life and its unending battles.
Escape
Sleep, therefore is a state of escape which offers a momentary sense of security to the frightened. And when Edirisinghe's character says "Ninda digatama thiyaganna one nam, heenayak dakinnama one." (If, to make sleep last, it is essential to see a dream.), that was where a profound statement about human behaviourism is revealed to the viewer about how we seek solutions through escapism.
A few years ago I read in an interview of Rajitha Dissanayke by Ruwini Jayawardena in the Daily News in which the playwright stated that he has no intention of exploring his hand at filmmaking and that he is dedicated exclusively to theatre.
I would like to urge the playwright of The Siriwardena Family to reconsider his position and see his latest play as a possible work for the screen. This is a story that must be told in more than one medium.
It is perhaps a story that the collective subconscious of society wants to secretly hear, though reluctant to openly grapple with.
Dissanayake now has a great task ahead of him. That is to ensure that his message in the form of a work of theatre with its ingredients that appeal to mainstream audiences does its rounds and becomes as watched as widely as possible. The play is a remarkable triumph.
The Siriwardena Family is a story to be watched by every Sri Lankan.