Short story
The reunion
I am Abigail. For the life of me, I cannot guess as to from where my parents "unearthed" this name, but although I disliked it, I let it be. I should say that I was born with the proverbial silver spoon in my mouth as my parents were affluent, and I being an only child, was brought up in the lap of luxury.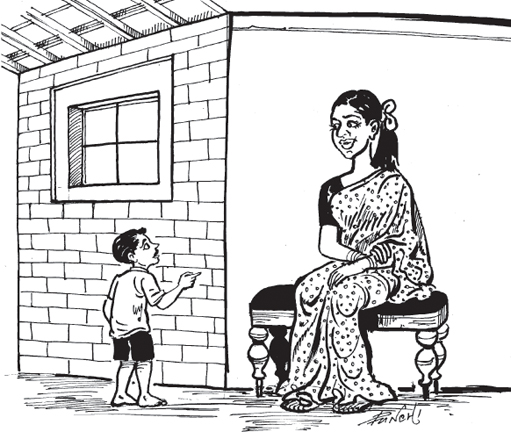 When I was around eight years, tragedy struck. Both my parents drowned when, they along with some friends, had gone on a boating expedition and when trying to cross a river in spate, sudden surge of water had overturned the boat. Thereafter, my uncle, my father's brother, took over the administration of my parent's estate and I moved in with my uncle and aunt at Nawala.
They sent me to a prestigious girls' school at Flower Road, Colombo 7, and my teachers, saying that my name rhymed with pigtail, shortened it to Abi.
That suited me fine. After my Advanced levels, I decided to become a Secretary, and I followed a course in Shorthand Typing and Secretarial Practice. Soon after, I secured a position as Personal Assistant to the Chairman of a leading Human Resources Management firm at Nawala and close to my home. With the money my uncle had saved up for me I indulged in the luxury of buying myself a brand new car, a Fiat UNO 900.
Lectures
My boss being a PR professional, was frequently invited to deliver lectures, address seminars and workshops or be a panellist, and I as his pa, was compelled to tag along. Though boring at times, II was happy as these were conducted at star class hotels and I was able to satisfy my epicurean cravings which were really astronomical.
One day at a panel discussion, a foreign participant rose to speak. I thought he was Italian and dumbfounded by his looks. He had shiny black hair, an aquiline nose, finely chiselled features and dimpelled cheeks.
During the break, I saw him mingling with the guests and exchanging pleasantries. I plucked up courage, walked up to him and said, "Sir, may I have your autograph please? and without even turning around he said, "Yes of course, meet me after this session".
At the conclusion, I spotted him looking around the hall as if looking for someone. I quickly sidled up to him and said in a soft voice and somewhat coyly, "here I am, Sir". "So there you are, you naughty girl," he said and steered me to a vacant chair.
Having signed the autograph, he rose as if to leave, stepped back and said, "By the way, I am at a loose end this evening. I would be happy if you could join me for dinner at my hotel."
Conservative
I told him, "Sir, we Sri Lankans are a conservative people and do not go out on blind dates and stick to our traditions".
"Oh", he said, "traditions are meant to be broken. Here is my card. See you at 7.30 p.m. At the hotel. Tell the reception to give me a tinkle and I will be down in a minute."
So saying he walked away. I thought to myself "the audacity and the effrontery of this man to assume that I was coming to his hotel at 7.30 p.m. Cheeky". I looked at the card. It read 'Roberto Ponti'. And the hotel was the Taj. Si I guessed right, he was Italian.
When I told my uncle about this he said, "Go ahead, enjoy yourself, and keep a level head". After a quick shower, I dressed carefully choosing a black gossamer lace frock, with a hint of glimmer, modestly cut in front, a silver belt with a serrated edge, silver shoes with a small wedge heel, a silver clutch bag, a chignon at the back of my head, and to complete the ensemble, a diamond pendant in the shape of a peacock and a broad silver trellis designed bracelet studded with Ceylon stones, which I had inherited from my mother.
When approaching the hotel reception, the man was engaged in a telephone conversation. He turned round, smiled and and said, "Mr. Ponti will be down in a minute." "So everything has been well planned" I told myself.
As I turned round, there was Roberto standing behind me dressed in a light mauve shirt, white corduroy slacks and white shoes. He smiled and said, "I knew you'd come" and led me to the dining salon. In an alcove, there was a table set for two in an idyllic setting, a red candle with a ribbon and a bowl of red roses at the base and two bottles of Campari and white wine at a side.
For dinner we had Hors D'oeuvre with stuffed boiled olives and ham ends, pea and mint soup, fish and chips, jumbo prawns fried in batter, stewed lamb with Oyster sauce, Italian sausages, vermicelli with Garganzola cheese, lasagna, beef brisquet and spaghetti bolognaise and for desert there was fruit trifle with chocolate topping and fresh strawberries, baked lemon tart with vanilla bean ice cream and my mother's favourite chocolate biscuit pudding followed by Briston cream liqueur and coffee.
Married
At dinner he told me his father was Ricardo Ponti, a film director and his mother Marina Stefani a film actress and his father's vineyard would devolve upon him someday.
His two brothers were married and had their own vineyards. I could not take my eyes off him and that was the first time that I noticed his eyes. They were Mediterranean blue deep, sensuous, alluring and above all hypnotic. Dinner over, he escorted me to my car, bade me goodnight, closed the door and left.
I was really on cloud nine. Thereafter we met regularly and going out for the day down south or to Negombo. One thing led to another and then-and-then and then we were married.
We rented out a fully furnished, single roomed apartment at Galle Face Court and in time we had a baby son whom we named Wilhelm (after my father) Silvio. We moved again into a two roomed apartment in the same complex. What more could a woman want? I had a loving husband, comfortable living and a cherubic son. I had it all. I was deliriously happy.
Some months later Bobby, as I called Roberto, came home with a long white paper in his hand and a frown on his face. This I knew was a cable as at that time cables and fax were the only means of communication. Things like SMS, e-mail, face book, u tube, skype, laptops and pen drives, twitter and re twitter were unheard of.
The cable was from his father wanting him to come early and take over the vineyard as he was now constantly falling ill. At the Italian Embassy, they told us that Bobby and I could go, but not Silvio as according to a new rule children under a certain age were not permitted to enter.
Bobby was furious and argued with those people but to no avail. He turned to me and asked me, "Will you come"? I said "of course I will. I am your wife, remember". But finally we decided that I should stay back with the child and come late when he was of age. I then moved back to my uncle's house with Silvio who was about 608 months old. They were very happy to have us there, as they were childless, and loved little Silvio. Bobby used to send me long and passionate letters and sometimes money as well frequently, but as time went by his letters became shorter, less frequent and less passionate. I thought to myself "could this be the end of the road"? Yes I was right. The full stop came soon. The euphoria had ended.
Compassion
Sometime later, my best friend Kate told me that a middle aged couple who owned a house in the UK were wanting a companion to reside with them there. I was wary about leaving little Silvio.
But my uncle and Aunt assured me that he will be well looked after like their own son and that I had nothing to worry. I left with a heavy heart and went to a place called Croydon, close to the airport and bordering a highway on which vehicles used to roar past day and night.
The house was spacious and comfortable and since I could drive, one of the first things my sponsors did was to buy a car. They invested in a Ford Anglia, Yankee model, light blue with silver top. I took them shopping, church, to the beach and some country cottages for the weekend whenever possible. We were all very happy. In my spare time, I followed some courses and acquired a degree in Human Resources and Business Management.
I used to receive regular progress reports from my friend Kate, which said that Silvio was growing up fast being about seven now, developed a nice accent and getting good grades at his school.
About a year later my sponsors told me that they would be going to Sri Lanka for their granddaughter's wedding in December and that I could come with them.
I was overjoyed with the prospect of seeing my son after about six years and I cabled Kate telling her about our plans and to arrange to meet Silvio only after the wedding was over as I was busy running about with that family shopping. With the wedding over, Kate told me that she had fixed December 22 as the date of our meeting at 5.30 pm at Odels at Alexandra Place.
I kept on counting the days and the hours but when the 22nd came II was nervours and panicky. At 5 pm I hailed a tuk tuk, went to Odels and hid myself at a Vantage point, so that I could see Kate coming in. On the dot, I saw Kate driving in a spanking new light green Hillman Avenger. She stopped the car exactly where I was hiding, dropped Silvio off and went to park the car in the parking lot. Silvio was within touching distance, and I saw him very closely. He was the spitting image of his father, no doubt about it.
I was worried "will he accept me as his mother and what if he does not?" When Kate came he went forward and clung on to her left hand. I slowly moved forward to Kate's right. I touched her hand and she whispered, "Dont worry. I have briefed him and everything will be fine, you will see".
We were moving slowly towards the main entrance and from the corner of my eye I could see Silvio bending over from the other side to catch my eye, but I was overcome with fear and nervousness. For how long more could we play this cat and mouse game?
Suddenly, I saw him standing in front of me looking at me defiantly with his arms akimbo and asking me "Are you really my mother"? That did it. I swept him up in my arms, and entered the cafeteria, nearby knelt down and hugged him. Again he asked me, "Are you really my mother"? It was then that the sluice gates were open and tears came in torrents down my face.
I said, "Yes, yes, I am really your mother and I will never ever leave you again". Then he put his small lips to my ear and whispered over and over again until I stopped him "I love you mom, I live you mom."
Dress
We were in this position for a long time and finally I got up, smoothed my dress and smoothed his crumpled shirt. I could see knots of people watching us and Kate later told me that some people had asked her whether, we were acting in a teledrama. It looked so real.
We walked out with our heads held high and hand in hand into the slanting rays of the setting sun. Just then the lights of the building were switched on enveloping it in a blaze of purple and the myriads of multi coloured jets cascading from the top on all sides lent a riot of colour to the whole area. It was truly breathtakingly beautiful and stunning and the building stood out like a sentinel silhouetted against the evening sky.
Silvio turned and said, "Wow" and we slowly walked upto Kates' waiting car. In the distance I heard a church bell pealing out the evening Angelus. Silvio was already in the car and by the time I finished reciting the Angelus and entered the car, Silvio was already dozing off. I place his head on my lap and stroked his head and he fell into a deep slumber. As the car sped away along the gaily decorated streets being Christmas time, I prayed:-
"Thank you Lord for reuniting me with my long lost son after all these years. I have now realised that a child is God's greatest gift and what a feeling of turmoil, loneliness and emptiness would have filled my son without the love and affection of a parent by his side.
Lord I promise you that I will never again, ever abandon my son. We are now on the threshold of a new phase, a new beginning in our lives. Lord guard and protect us and help us to face the vicissitudes which we are bound to encounter in the future with courage, determination and faith. With you at our side we have nothing to fear. So help us Lord and may you be praised."
I feel that, as a fitting finale to my epistle, I should add one more word.
Amen