Inner Sounds-a soul searching experience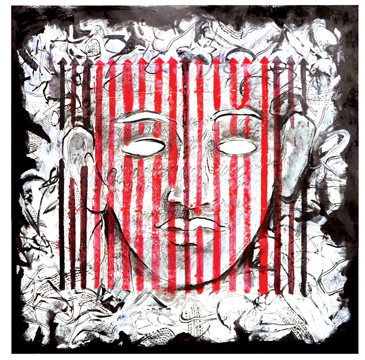 Unlike in Western countries, here it is a rare sight to see art lovers in galleries who spend hours staring at a painting or sculpture and finding a link with the idea that the creator had when he created it.
Even though, there are thousands of students who pass out from the Visual and Performing Art University every year, it is questionable as to why there's hardly anyone in the galleries to appreciate this form of art - sculpture and drawings.
There aren't many artistes who are actively involved in sculpture and drawings but the few of them who are into it could blow anyone away with thier mesmerising work.
Manoranjana Herath's 'Inner Sounds' is one such exhibition, needless to say is one of the best sculpture and drawing exhibitions that I have visited recently.
In one of his statements he beautifully stated the Idea behind his 'Inner Sounds' exhibition "Modern society has made our requirements complex. To set up pleasurable living standards in our lives which are integrated with diverse desires which float on. The majority of present day Sri Lankan lives have been positioned amidst these vicious situations.
Inter-personal relationships among humans have drifted apart. Trust and mutual understanding has become a business now. There are no hearts and minds which suffer solely or filled with happiness today. Even if there is an equivalent, it is difficult even to imagine that a space could be seen for such lives to germinate, at a time when we are bored with ourselves.
The craving in man to be powerful in society has become strong. His or her whole life flows down mechanically in that dream. These human souls wonder without freedom, rest or pleasure. These lives are roaming along captivating streets in cities and villages and are marching towards dream islands and are idling alone in dream cabins.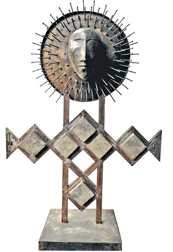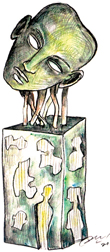 Can you say that this is not yours or my surrounding? Can you certify that you didn't see all these things? Or else didn't you hear any of these things? Whatever your answer is, it is certain that we ourselves engage in an incessant lonely discussion about all these things. I so forward to you these forms of internal voices of the solitary soul discussion".
Excerpts of an interview with Manoranjana Herath:
Q: Tell us the intention behind 'Inner Sounds'?
A: When creating any of my creations, I never had the intention to hold exhibitions. I just concentrated on my work. 'Inner Sounds' is an outcome of the research that I've been involved in for the past two years at the University which was titled 'Self Portraits'.
I'd like to call 'Inner Sounds' an extension or a developed version of the research of 'Self Protraits' where I tried to search my self portrait and my inner desires through sculpure and drawing.
Visual art
Q: Sculpture and drawing also falls into the category of visual art which has a broader meaning. However, as a viewer to enter into these type of art requires some sort of inner balance and in terms of enjoying this type of art which is quite rare in our society.
This particular art sculpture and drawing have a limited audience and is kind of isolated from society. As an artist how you deal with this situation?
A: Not only the audience, we have a huge scarcity of sculpture artistes too. Even though every year there are hundreds of students who pass out from the Visual Art University, very few would continue in a career as sculpture artistes.
It is true for a viewer to entertain this type of art you need to have prior knowledge about the composition, colour balancing and other basic things which the general audience may not have.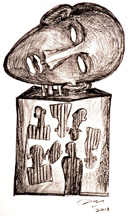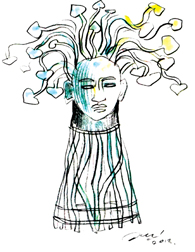 That could be the main reason as sculpture artistes we have to limit ourselves within the walls of a gallery space and anyone can say this type of art form is isolated. Because the gallery represents a certain class with certain consciousness of society who can read and contemplate to enjoy this type of art piece.
However, sometimes it is questionable as to whether those who are actively involved with this art form could really appreciate its outcome. The present generation doesn't have the thirst for knowledge as we had when we were young. It is a generation that targets only examinations and paper qualifications which is not possible with any art form.
Q: As I have noticed as the common character of many art exhibitions is the description provided by the artiste at the end of every art piece is missing in your exhibition. Why?
A: I didn't want to limit the imagination of the viewer by giving an explanation according to my perception which I think would be biased.
Through my art I don't talk about destination but it's a never ending journey which you can read, question, understand and experience according to different perceptions of life.
I don't think it's necessary to open windows by myself for the viewers to look into my art pieces. I enjoy the comments that I get from them and some comments are truely encouraging and opened novel avenues which I never walked before.
Q: Sculpture is quite a time consuming art. How long did it take to complete all these art pieces?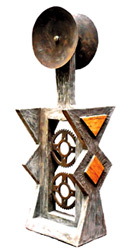 A: There are some art pieces in this collection which took more than three years to complete. Some I did within two three months. As it involved a lot of time, normally the art work also evolved with the time.
Sometimes it ends up as something totally different to what I initially invented. That is the beauty of sculpture and drawings which doesn't have a concrete, solid idea but it evolves with the process.
Q: How is the demand for sculpture and drawings in Sri Lanka?
A: The main reason why we get involved with galleries all the time for our exhibitions is they maintain a certain clientele which is quite hard to find as individual artistes. Another reason is culturally we have not created the space for sculpture so far in our private space.
Though we have some space for drawings as a wall interior, sculpture couldn't develop that space yet in our day- to-day life.
Through 'Inner Sounds' as I'm sharing my personal experiences and thoughts, sometimes it could be a minus point of getting connected with somebody's inner self and that also could be a reason to have a lesser demand.
However, we don't have the culture which consider sculpture as an invesment. Considering the outside world, the value of sculpture is developing from generation to generation. If we really think of a future for this particular art form it is essential to develop that culture collectively which is not possible only with the artistes.
Q: What are you trying to communicate to society through 'Inner Sounds'?
A: 'Inner Sounds' is based on my personal experiences. It is my reaction to situations which shocked me, shook me or changed me through my journey of life.
As we cannot share everything that we experience and feel in society, 'Inner Sounds' tells you what I couldn't tell and what I couldn't express. It is all about searching myself, questioning my beliefs and its existence.
'Inner Sounds' will go on till February 8 at the Barefoot gallery.