This is what lightning looks like from space
Lightning looks a whole lot more beautiful and safe from up above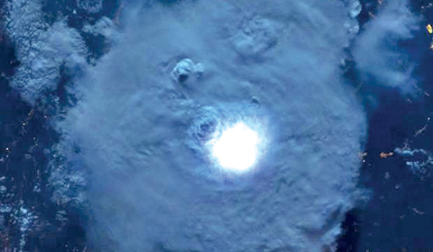 The European Space Agency (ESA) has released captivating video showing lightning strikes on Earth - viewed from 250 miles above.The time-lapse clip was compiled from 49 images taken above Earth.
They were snapped by an astronaut on the International Space Station (ISS) travelling at 28,800 km/h back in 2012.
The video shows bright flashes appearing at random from within a huge cloud, and it is fascinating to see the different sizes, shapes and brightness of each lightning flash.
How did the ISS manage to capture such stunning images? A camera flash so far above the Earth would be redundant, but with the Earth moving quickly, any image would become blurred.
So the ESA's Nightpod camera aid compensates: the target stays firmly centred in frame so the final image is in focus.
Thus, this incredibly high-tech piece of equipment allowed us all to marvel in the wonder of lightning from above.
- The Independent