Seven weeks after Enlightenment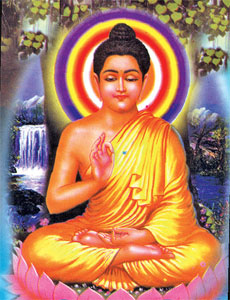 First week:
The Buddha sat under the Bo tree, experiencing the happiness of freedom and peace (Nirvana/ Nibbana)
---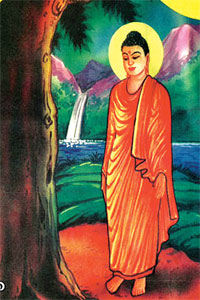 Second week:
The Buddha stood a few feet from the Bo tree and watched it without blinking for a week as an appreciation to the tree that gave him a place to shelter while struggling to reach the level of a Buddha
(Animisalochana Pooja).
---
Third week:
To clear the doubts of the gods that the Buddha had attained Enlightenment, He created a golden bridge in the air and walked up and down on it for a week.
---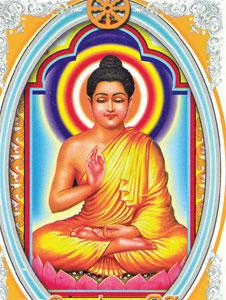 Fourth week:
The Buddha created a beautiful jewelled chamber (Ratanaghara) and sitting inside it, meditated and the rays of six colours came out of the Buddha's body.
---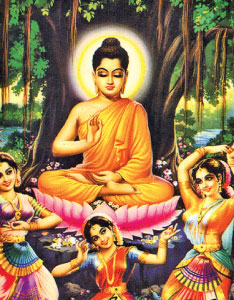 Fifth week:
While meditating under the Ajapala banyan tree, three charming girls called Tanha, Rati and Raga (the daughters of Mara) came to disturb Buddha's meditation,. but soon got tired and left Him alone












---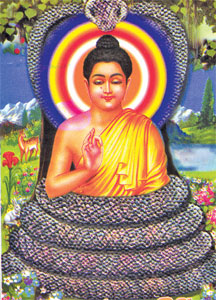 Sixth week:
The Buddha began meditating under a Muchalinda tree. It began to rain and the Muchalinda Nagaraja (cobra king) came out and coiled his body around the Buddha to keep Him warm and placed his hood over the Buddha's head to protect Him from the rain.
---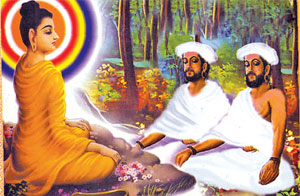 Seventh week:
During the seventh week, the Buddha meditated under the Rajayatana banyan tree. Two merchants, Tapassu and Bhalluka offered the Buddha rice cakes and honey. These two merchants became the first lay followers in Buddhism.
- Internet