Learn to draw
Painting fruits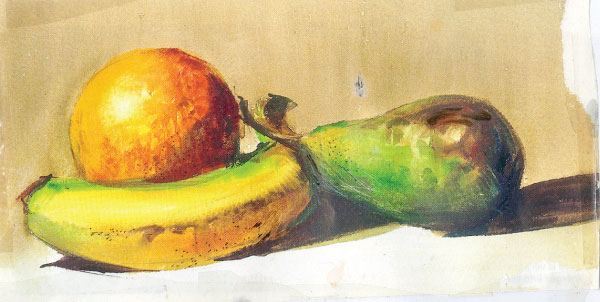 The exercise that is presented here is a straightforward still life comprising three simple elements orange, banana and a pear. A fruit is much easier to paint than symmetrical elements such as a plate or bottle, for no margin of error is allowed with these. The colour, the brightness, the highlight or the texture can all be varied but essential to the process of valuation and modelling of the shapes are always the same.
First start with a plain sketch of the shapes that you want to present with a soft HB pencil, as can be seen in Fig 1. It is not complicated but this drawing has to be done neatly.
The shape is outlined. Next the colours have to be applied progressively, always from light to dark.
First the background should be painted with a light wash. After it has dried the shadows are done in a dark colour. A pale tone of green sienna and ochore is used to paint the background.
Once the background is dry you can start to paint the orange. Pay attention to the highlight.
The colouring of the orange is done with progressive tones of the same colour, always conserving the same high lights as a reference for the volume.
To do the valuation around the shadow, green, orange and some sienna are mixed and applied. Where the highlight meets the shadow, brush strokes tinted with red are made.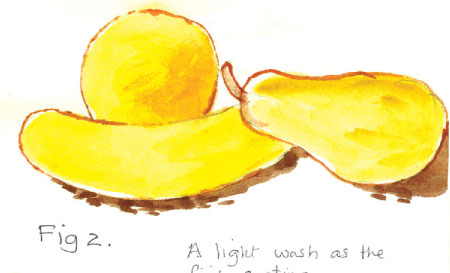 When the orange is dry, the painting of the banana is done with long brush strokes.
Fig 2 shows the simple colour wash as the first coating before the first brush strokes are applied, the banana skin is started with a golden yellow.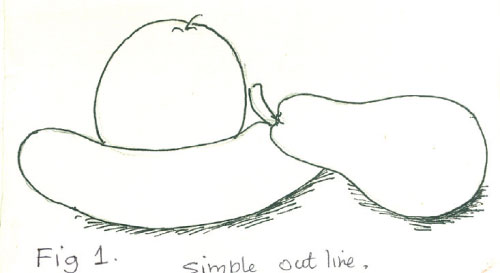 A complete painting of the fruits are shown on Fig 3.
The painting of the orange is rounded off by merging the dark colours that have been painted into the background with successive brush strokes.
On the pear the shadow is painted with burnt amber and soft brush strokes are made on the areas of green until the tones are mixed up. Lastly to darken the banana the lower part is slightly dampened so that the shadow colour expands gently. Kent paper 150 gsm is used as drawing paper with sable hair brushes Nos 1, 6 and 8 for colouring.