Politics and parting of ways:
We are entering politics to bring value - Ven. Galagoda Aththe Gnanasara Thera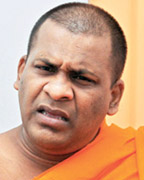 The Bodu Bala Sena (BBS) is preparing to enter the political fray through the up coming General Elections. It's General Secretary of the Bodu Bala Sena (BBS) Ven. Galagoda Aththe Gnanasara Thera blamed the current political mainstream parties for not protecting the identity of ethnic groups and said, "They are hoodwinking voters to be in power without promoting reconciliation or protecting identities of each ethnicity,"
Excerpts:
Q:Recently you announced that the BBS will enter active politics.
What made the organisation to make such a decision?
A: We believe that the current political set up needs people with a vision.. We intend to bring them to active politics to infuse value to the political system which has now become futile. We believe that its a duty of a bhikku, since ancient times, to build personalities who can stand up to protect the country and the religion. We are entering politics to bring value to the current political environment with people with knowledge and vision.
Q: Have you decided who will be contesting? Have you planned your election campaign?
A: We are discussing with several parties. Under the current rules and regulations there is no room to to register as a political party. That is why we are discussing with several registered parties at the similar wave length. But we will not form a coalition with the mainstream political parties, be it in power or in the opposition.
We will bring people with values and knowledge who could face the intrusion of extremism of other religions. We want to establish a system that will protect and value the Sinhala Buddhist culture.
There are political parties to represent the minorities of this country and demanding their quota of representation in parliamnet. Even the mainstream political parties with politicians from minorities are thriving on their votes. They are playing a game.
We do not like to use the word 'minorities'. As they we too have the right to protect our identity. The society will be able to respect the other religions and races only if they value their own culture and religion.
Q: The pressing questions for the people are managing their daily family needs, children and job demands. How practical is your concept in this back ground -specially when the BBS hopes to obtain votes from the people?
A : Even Buddha's teachings primarily targets relieving people from hunger.
We agree that food, shelter, clothing, education and other basic necessities are important for everyone. Buddhism has to exist for 5000 years.We need to bring back that pride. When we cautioned the authorities on religious extremism in the country, the previous government swept it under the carpet.
Therefore we have to protect the Sinhala Buddhist from extremism which will destroy the unity among all ethnic groups in this country.
Q: You mean to say you are against extremists. But there is an allegation on BBS for promoting extremism and Buddhist militancy. What are your views on this?
A : We are not against the Muslim people as shown by the media. Sinhala people have been living with them peacefully for several years. Religious conversions take place violating the freedom of practicing one's religion. We need to protect the Sinhala Buddhists.
We must protect the future generation.We are harsh because decision makers turn a deaf ear to the problems of people. We do not resort to weapons as the ISIS or any other militant group formed in the name of religion.
Q: But there is an allegation against the BBS for involving with former Defence Secretary and a Buddhist monk with a global reputation of an extreme view. You invited this Buddhist monk to the Sangha council last year. What is your response.
A: There was no involvement of the former defence secretary with the BBS. We did not invite him for any of our events. It was an opening of a cultural centre in the South built by a German that he handed over to Kirama Wimalajothi Thera.
The the BBS has no office there. It still operates as a cultural centre. As for Ven. Wiruthu thera from Myanmar he is a disciplined Buddhist monk. He held a series of discussions and preachings on injustices to to Buddhist monks and laymen in South Myanmar. He was against killing of Buddhists and monks.
There is nothing wrong with that? During his visit to Sri Lanka he did not preach to kill people of other religions. We did not impart such a message. It was solely on a discussion on how to face the challenges in the current world.
Q: Your answers show that you intend to bring change in people.
Do you really need to be in politics to do so?
A : The BBS bhikku members will not get in to politics. There was a time when the media did interviews and unseen powers threatened the media institutions blocking advertisements and financial assistance. Therefore our version of the story was never carried – specially in the English media.We need to voice our concerns in legislature.
Q: You mean no Bhikkus will enter politics?
A: Yes not a single Bhikku will contest elections for the parliament or the local authorities.
There were venerable theras who entered parliamnet but they did not protect Buddhism. It is not the duty of a Bhikku to enter pollitics.Bhikkus have been guiding political leaders. We will follow that path. We cannot change people by entering the legislature. We can respect and protect the identity of another community by respecting their culture.