'Sinahawa Atharin':
Sanath's second coming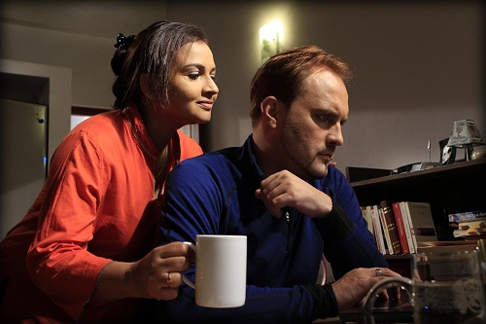 After nearly four decade of being a 'bona fide super star' and six years donning the director's cap, Sanath Gunathilaka is back in the limelight, this time, with his second cinematic venture Sinahawa Atharin, proving he has still got his box office mojo, both as an actor and as a director.
His pre-eminence as an actor has never been disputed, but in his evocative portrayal of 'Wimal' in Sinahawa Atharin, he delves deep to recapture the essence of what sets him apart from the rest. In fact, Sanath identifies his character 'Wimal' as his best performance after his most admirable character 'Aravinda' in the film 'Viragaya' the screen adaption of Martin Wickramasinghe's opus by veteran writer/director Tissa Abeysekara.
The story idea of 'Sinahawa Atharin' came from Chaminda Perera, a film producer friend living in Canada, who he met during the screening of Prasanna Vithanage's 'Sisila Gini Gani' in Canada years ago. That was even before Sanath penned his debut film 'Ekamath Eka Rataka'.
True story
Looking back, Sanath believes Chaminda influenced him to dramatise the true story after watching 'Sisila Gini Gani', because it also carried a similar love triangle story line.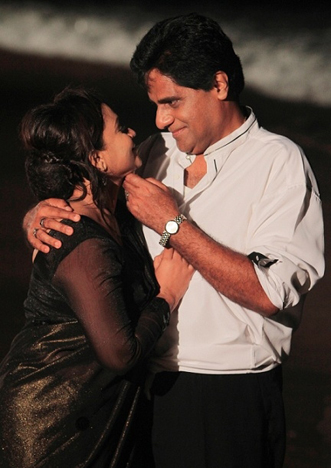 Sanath acknowledges Chaminda's continuous assistance as being major throughout the long writing process as well as the production. "His true experiences truly molded the story," says Sanath, explaining that although the true incident happened in Canada, Chaminda's generosity in sharing that experience helped Sanath adjust the story to suit the local environment, while remaining true to the story line.
"I never had hidden agendas when producing the film. I was honest with my feelings and creativity. I only wanted to do my best with great respect for the story that Chaminda shared with me," he says adding that although the story has an adult theme, which has a limited audience, he never wanted to create anything beyond the true story line to grab the audience.
"I am grateful to the producer of the film Sunil T, without whose generosity 'Sinahawa Atharin' would be just another dream, which may faded away with the time," he expounds.
'Sinahawa Atharin' is based on three main characters (Sanath Gunathilaka as Wimal, Semini Iddamalgoda as Kumari and Chris Henry as Richard) whose lives are trapped in a love triangle, attached to each other, consequently linking each one's destiny to the decision of the other. The film reveals the complexities and sometimes tragedies of adult relationships.
As Sanath explains, he had been specific in his requirements when selecting the cast. Although he could have cast one of the more popular star figures, more glamorous than Semini, he opted for Semini getting involved with the character was the most important thing in his mind. The thirst that Semini showed to portray a good character in cinema was something that Sanath appreciated as being something rare in the industry.
"It's hard to find actors or actresses who have the thirst to portray good characters on screen. For me, acting is living in another life and it is not just parroting dialogues. It is a continuous process where the actor forgets about his or her realities and gets under someone's skin," he says, explaining that he saw that rare quality in Semini, and that when considering the positive response he gets from the audience, he is convinced it was a wise decision to select her as the main female character.
Audience response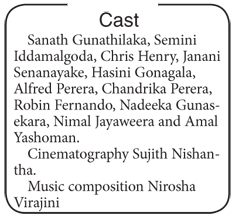 Sanath is satisfied with his cast and says they have never let him down during the process. His faith in them has been reaffirmed by the audience response.
As an actor who was lucky enough to be in his peak during the 80s and 90s, deemed golden era of Sinhala cinema, Sanath also has the nostalgic feeling of recalling the time where the cinema halls were packed to capacity with cinema-goers.
"Globally speaking, although there were times enthusiasm for films were overtaken by other mediums, that situation has changed. It is, however pathetic that Sri Lanka has not been able to recover the loss created by the advent of television, internet and other advanced mediums for Sinhala cinema yet," he says, pointing out that the Sinhala cinema hasn't been able to develop or transform with the technology as has been happening in other part of the world.
He holds the authorities responsible for the downfall of the Sinhala cinema, but believes that as artiste they also cannot absolve themselves of the responsibilities. "I'm quite keen on the creativity shown in cinema by the new generation. They have ideas and concepts which can match with what the rest of the world has to offer," he says, adding that it is paramount important to re-establish the mechanism to help these youngsters showcase their creativity. "Only then can we expect a real change in the Sinhala cinema and re-gain the loss audience."