From rebels to lawmakers
Rasiah Kirubakaran explains the 180º turn the rehabilitated ex-Tigers have taken in forming Crusaders for Democracy and contesting the August 17 polls: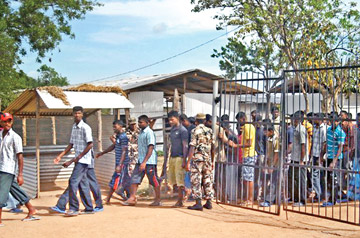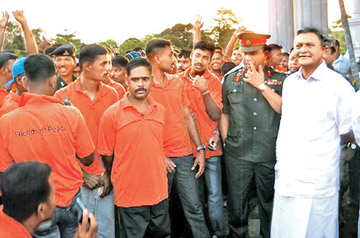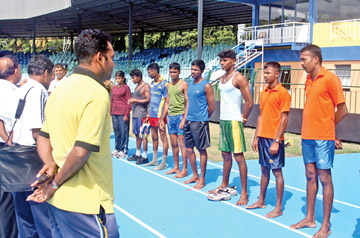 On the campaign trail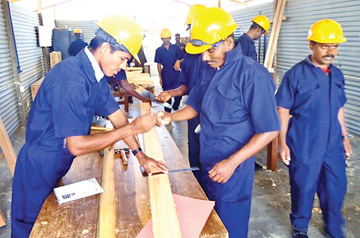 LTTE cadres undergoing rehabilitation
Six years ago, when a brutal war came to an even more brutal end, few looking into crystal balls would have dared predict the metamorphosis that now sees the Tigers not only rehabilitated but also entering mainstream politics. Calling themselves Crusaders for Democracy (CFD), with veteran journalist Nadesapillai Vidhyatharan as the party convenor, rehabilitated ex-combatants are contesting the August 17 elections as an independent group and are fielding 10 of their members to fight a different kind of battle in the Jaffna electoral district.
The turnabout is being deemed an important, encouraging and welcome turning point in Northern politics, by the Southern political leaders. In an interview with the Sunday Observer, former Tiger Rasiah Kirubakaran alias Kadhir, administrative chief of the CFD, talks about the primary goals of the party, venturing into democratic mainstream, contesting the August 17 polls , the changes they aspire to bring about through democratic politics and the dire needs of the people that has to be addressed immediately. Focused on the future and determined to forge a new path, he refuses to talk about the brutal past, the bloody finale of the war, or the War Crime endeavours, claiming that as ex-combatants rehabilitated by the Sri Lankan Government, they will not comment on such issues as a gesture of gratitude and goodwill.
Excerpts:
Q: What prompted you to found a political party and contest the polls?
A: Aside from the rapid economic decline, society is also degenerating with increasing incidents of rape, violence, drug addiction, murder and other anti-social activities. Political parties representing the Northern people are responsible for the deteriorating situation because they did not take any meaningful steps to arrest the situation and restore law and order. Our main objective is to work hand in hand with the administrative and law enforcement authorities to completely eradicate lawlessness and mobilise all sources and avenues, including assistance of the civil society organisations, for the economic uplift of the community.
Q: But you are contesting as an independent group?
A: The Tamil National Alliance (TNA) is a political party that we worked hard to build up, but they let us down when we requested them to include us in their list of candidates to contest the elections. We want to do the maximum for the socio-economic uplift of our people after entering Parliament.
Q: Do you have any comments to make about the UN Inquiries against Sri Lanka on purported war crimes and your experience as an LTTE combatant?
A: Out of goodwill and as a gesture of gratitude to those who rehabilitated us and helped us to merge into society, I do not wish to make any comments. We strongly believe that solutions to social and political problems cannot be achieved through violence. It is only through democratic means and elected representation that these problems can be addressed.
Q: Can you tell us something about your background, and about the members who are contesting the August 17 polls?
A: I am a 42-year-old father of three. My wife is a housewife. I lost a limb and my wife was wounded in the crossfire. I was born in Jaffna but am now living with my family, including my parents, in Viswamadu in the Mullaitivu District.
My colleagues contesting the elections are all educated up to GCE (OL), some of them up to GCE (AL) and they too have their bitter experiences. Under the rehabilitation program, we were provided training in carpentry, building construction, painting and business entrepreneurship. We were also taught English and Sinhala. That has helped us a lot in merging with the society. We were also given the encouragement to enter politics.
Q: A substantial number of female ex-combatants were also rehabilitated. Are any of them included in your list of candidates?
A: Most of them have returned to family life, therefore it has not been possible to include them in our list of candidates. But they remain our supporters. However, in the future, due representation will be given to them in all political activities.
Q: Have you already begun your election campaign and if so how has the responses of the voters been?
A: Yes, we have. And we have started establishing direct contact with the people through rallies, pocket meetings and street corner meetings. We are spreading the message of democracy, development and peace, while acknowledging some of our past mistakes. We are also visiting interior villages and rural areas. There is a good response. At least 40 people from each village and township are joining our campaigns.
Q: As rehabilitated LTTE ex-combatants, you are now aspiring parliamentary representation on behalf of your people. The TNA has already been representing the people and, in some respects, they too hold the same stand as the LTTE on many crucial issues, including Tamil nationalism, the right for self-determination and political solution with wider powers. When you are returned to Parliament, will you take a stand overruling the TNA and also the provincial administration?
A: The TNA is our own party, it is our house built by us. We do not think that there would be clashes on our main political ideologies.
There are problems within the TNA, which we want to remedy, which we will do after entering Parliament. The TNA has not been registered as a political party until now. The Illankai Tamil Arasu Kachchi (ITAK) is a dominant constituent in the TNA, making arbitrary decisions and acting arbitrarily. When we enter the House, we want to cleanse it. We want to get rid of all undesirable elements and forces. We want to unite the TNA and all splinter parties and groups to make a strong and powerful political alliance. We strongly believe we can do this and we will be able to work in coordination and with the goodwill of all forces that have common aspirations in relation to the Tamils' political rights and dignity.
We do not think there will be any clash of interests with the provincial administration either and therefore, the question of overruling the provincial administration does not arise.
Together with the TNA and the other parties we will strive for the development of the community in all areas, including education, economy, health, agriculture, infrastructure and housing.
We believe that even before we take steps to cleanse the TNA, the people will reject them.
Q: The reason for the continued presence of a large number of troops in the Northern Province has been attributed to fears that terrorism will raise its head once again. Being ex-combatants you are now entering democratic politics. What are your plans to convince the sections of the Southern political forces that you, as well as your other colleagues, are committed to democracy and development?
A: Our demands and the aspirations of the Tamils were quietened after May 2009. Our first priority will be building up mutual trust with the South and convincing these political forces that there will be no 're-emergence of terrorism' under any circumstances in the future. We will work on the basis of trust and compromise towards achieving our demands and aspirations of the Tamils.
The TNA is not bold enough to put forward these demands. They are treading the path of destruction. It will be our duty to lead the people and party in the right direction.