[Learn to draw]
Drawing and painting Elephants
If the Lion is the King in Africa and the Reindeer in the Arctic, then surely the Elephant is the monarch of all Asia. The elephant has become part of the region's culture, it is true of Sri Lankan elephants which are ever-popular subject for artist's and the public.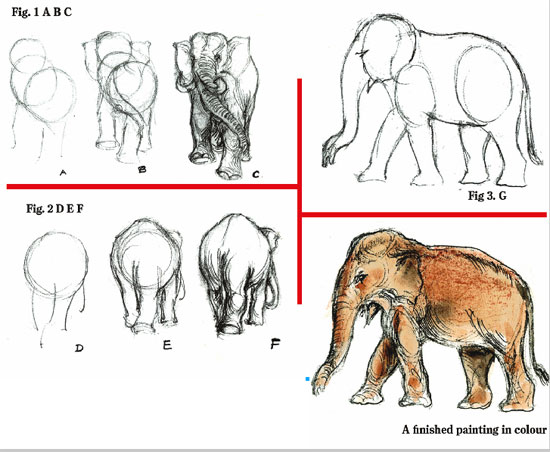 The much used animal was one of the first wild animals to be tamed and domesticated by man. It has been used for a wide range of jobs; pulling heavy loads, carrying kings, the Sacred Tooth Relic majestically in the Dalada Perahera standing beside his master in war time, in peace in the temple and palace and as a worker in the field and the forest.
By starting with a simple outline drawing I have shown in three stages, the front view of an elephant in Fig. 1. The first outline (A) shows in a circle, the body formation and (B) indicates the complete structure and shape of the body, and (C) finished drawing done in pen and ink in detail. Notice the large ears and the long trunk and the tuskers. The second stage depicts the back of the elephant Fig. 2 at first (D) shows the outline with a circle and (E) advanced sketch, observe the huge back and large body and massive hind legs. And (F) shows the general build of the animal.
Fig. 3 shows a complete coloured painting of an elephant, with a outline drawing in (G) as a basic structure. Study these illustrations carefully and practise them.
Try to memorise these shapes and place the eye correctly. By constant practice you will be able to draw and paint this majestic animal.