Recollections:
Mosaic of the Malay Race
The Malay influence commenced when a Malay Prince was deported by the Dutch around the 18th century. Hence distinctive Malay characteristics and traits were cast on the early Sinhalese ever since that time. UNESCO declared that the Malay language is being endangered because this community is moving away from their mother-tongue to converse in Sinhalese, Tamil or English. Intermarriage has taken place but they maintain a good rapport with people they also live among.
As from the reign of King Sena (888-858) the ancient civilised era, the Malays have existed pretty well in this island. Many Malays lived in Ceylon when the Dutch ruled. The British took over in 1815 and some of the Malay tribe opted to make Indonesia their homeland, some stayed back to become soldiers, policemen or to join the Fire Brigade Regiment.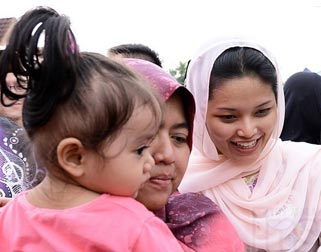 The first Malay newspaper Alamat Lanka Pura was published around 1925. Also at that time a friendly 'medicine man' attended to the sick going from house to house administering local herbs and unguents.
Malay ancestors who lived in Ceylon (Sri Lanka) belonged to the Malay Archipelago and held fast to their culture and customs. Practising Islam, they recited prayers in Arabic and celebrated Islamic festivals. Today, they are not restrained or restricted in participating in any Sri Lankan event.
The typical Malay male attire was a vivid cloth, a colourful batik shirt and the head-gear called 'Sonka'. Women wore the 'Baju Kurung' a wrap-around cloth in vivacious patterns or prints.
It was rather silky and was teamed with a long-sleeved blouse. Glittering thonged slippers were chosen. Her shiny, long hair was pinned back with ornamental hair-combs.
She could be so alluring as she tripped along the narrow roads of long ago to call on her neighbour or friend. Her tasselled parasol, heavily-lashed eyes, high cheekbones and olive complexion made her so attractive. They attended weddings elegantly dressed, exuding the fragrance of rose-water.
The bride in satin and lace western attire sat on her flower be-decked settee awaiting the bridegroom who would uncover her face veil until the groom arrives and places jewellery on her and a wedding ring on her finger.
The groom wore a designed sarong, a satin tunic and a fez-cap.
The marriage ceremony was and continues to be grand and lavish. Guests are served cake, Nasi Goreng or ghee rice.
The sweetened, coloured drink had tiny black seeds(Kasa Kasa) floating on top. Dessert was delicious 'Vatalappan' and sugar-coated musket with fragments of cadjunuts in it.
Dr. Ronit Ricci came in search of information regarding the Malays. She discovered scripts in Gundal and Arabic books printed in Romanized Malay with translations into Sinhalese and Tamil.
She received documents and old Malay family photographs (vague and discoloured) from certain families. People in Trincomalee gifted her with antiquated letters, scripts, journals and disintergrating personal certificates all tarnished with age.
She also glanced through a collection of documents and pages (now kept safe in the National Archives). From the Quran which had been translated into Malay.
She took copies of Malay poetry and stories 'Hikayat' from the Quran and booklets of 1920.
An article in another weekly highlighted hair ornaments. Percival's 1803 report said that the males wore perfectly manufactured turtle-shell hair-combs of the finest lustre. The Malay lady adorned her coiffure with elaborate hair-pins and polished pieces of turtle shell for special occasions.
The Malays are hospitable folk. They capture the Malay spirit of living amicably in our lovely island.
- Caryl Nugara