100th death anniversary of Edward Henry Pedris:
Book launched to commemorate National Hero
The 100th death anniversary of Edward Henry Pedris was commemorated with the launch of 'Edward Henry Pedris - National Hero who awakened a nation' at the Sri Lankan Foundation Institute on July 8, 2015. The launch was held under the auspices of President Maithripala Sirisena who garlanded the photograph of the National Hero. Thereafter, author of the book, veteran journalist and Media Advisor, Ms. Charnika Imbulana, who was commissioned by the Edward Henry Pedris Commemoration Society, presented the 1st copy of the book to the President.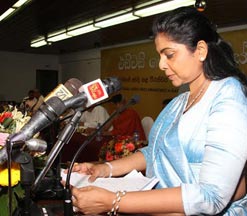 Chief Incumbent of the Kotte Naga Vihara, Maduluwawe Ven. Sobitha, Ministers Patali Champike Ranawena, Karu Jayasuriya and Governor Southern Province Hemakumara Nanayakkara, were the key speakers at the event.
Edward Henry Pedris, the only son of one of the richest families, perhaps the wealthiest in Ceylon, joined as a Town Guard of the then Ceylon Defence Force. The only Sinhalese to be enlisted, he outshone most and was promoted to the rank of Captain within a year.
Communal riots that triggered off from the Gampola Perehare in 1915 eventually engulfed almost the entire nation. Either deliberately or due to suspicion assuming it is a revolt against British rule, the British overreacted and arrested offspring of eminent families on false charges, identifying them as being a threat to the British. Edward Henry Pedris was arrested along with his two brothers-in-law. Pedris was court martialed on trumped up charges and condemned to death by firing.
His killing and the blood soaked chair shown to the imprisoned freedom fighters to instill fear in them in fact fired up their determination even further to free the country from the subjugation of the imperialists. The Ceylonese fought many battles for over a century against the British, unsuccessfully. After the brutal killing of Pedris it awakened the country and the freedom fighters to regroup themselves into unleashing a peaceful rebellion that saw through to the freedom the country eventually gained thirty three years later.
Ms. Imbulana, who has three decades of experience in the media field, lucidly relates this important period of history. The 1st edition of the book is already sold out, for which author Ms. Imbulana and the E.H.Pedris Society share the royalties. The second edition will go into print soon. Veteran translator, D.W. Wijewardena has offered to translate the book into the Sinhala language.
The Edward Henry Pedris Committeee headed by former parliamentarian Anura Bastian, comprises. Gamini Pedris, Mrs. Chandrani Pedris, Dr. Harendra Kulasinghe, Mrs. Sanjani Kulasinghe, (late) Mani Karunatilaka, Mrs. Wimela Bastian, Mrs. Udeni Pedris (Domiciled in Australia). Shavantha Pedris, Mrs. P.H.K. Manisha Nalini Ranasinghe and Bernard Ranasinghe.