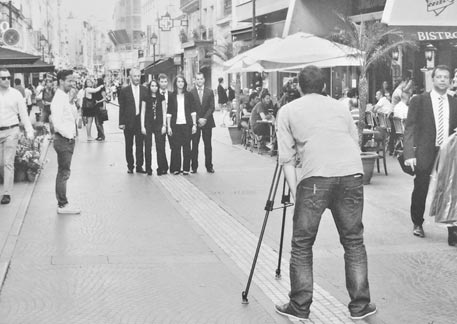 Roaming on:
'Rue de la Nostalgie'
A Parisian street came alive on Colombo's Guilford Crescent on Friday July 10. And I shall take the liberty of christening it 'Rue de la Nostalgie' (Street of Nostalgie). Coming to life between the walls of the elegantly-lit Lionel Wendt Art Gallery, veteran television host, writer, public relations specialist and corporate etiquette trainer Kumar de Silva's annually held black and white photography exhibition of France 'through a lens' -'Nostalgie' opened for the fifth successive year. The theme of this year's exhibition was street scenes from Paris. And what was Kumar to present this year as the setting and decor theme for his exhibition? A street scene of Paris, setup inside the gallery itself!
The opening evening was a star studded scene to remember with the presence of screen stars like Sriyani Amarasena, Sabeetha Perera, Angela Seneviratne, Semini Iddamalgoda, Sangeetha Weeraratne, Yashodha Wimalaradharma together with gurus of 'cinema direction' like Chandran Rutnam and Mrs. Sumitra Peiris and of course the chief guest of the evening who crowned the event with her gracious participation -Mrs. Iranganie Serasinghe.
Notable feature
There were also many of his good friends such as Vajira Chitrasena, Ramani Fernando and Nayana Karunaratne, former Army Commander Gen. Daya Ratnayake, Abbas Esufally, Ishan of the De Lanerolle Brothers fame, Padma Maharaja, Sanjeev Jayaratnam of The Revelations Fame, Deepa Edirisinghe of the EAP Group among several others.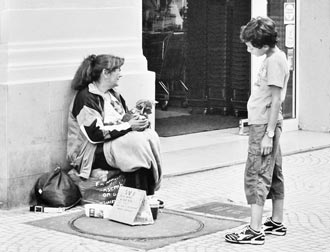 A notable feature was the presence of his numerous friends from the print and electronic media in a massive show of solidarity for this exhibition for charity,
All profits from the sale of photographs will go to the Scholarship Fund of the children of the award-winning 'Nation' / 'Rivira' press photographer, the late Rukshan Abeywansa, who died last year.
The French Embassy in Colombo displayed its solidarity with Kumar in full measure with a high profile presence.
The Alliance Francaise de Kotte (AFKo) also was a notable institutional partner of this delightful and aesthetically appreciable project. Black and white photographs of streets scenes of Paris adorned the four immaculate walls of the gallery while cosy corners and nooks of mannequins dressed up as Parisians were frozen in their moments of painting street scenes, and rendezvous-ing at wayside cafes while a 'lady of the night' in fishnet stockings and mini skirt discreetly stood behind a lamppost!
Veteran broadcaster and thespian Neidra Williams was the compere and added much vibrancy to the evening's proceedings. Young musician Nuran Gomes delivered an enchanting solo violin performance and then soon the crowds along Rue de la Nostalgie were rapt by the captivating vocal elegance of songstress Menaka de Fonseka Sahabandu dressed as a Parisian street singer replete with beret et al.
She enchanted the guests with the perennial "La Vie en Rose" and "Under the Bridges of Paris" serenading guests along the centre of the street and ascending the stage. An accordion player too entered the vibrant Rue de la Nostalgie to add to the Frenchy ambiance. Red and white wine generously flowed together with delectable canapés like spicy prawn pastry boats, stuffed eggs, and salami with creamed cheese on bread, and not forgetting a remarkably delicious iced coffee to delighted the palates of the crowd that thronged Rue de la Nostalgie that memorable Friday evening.
The ambience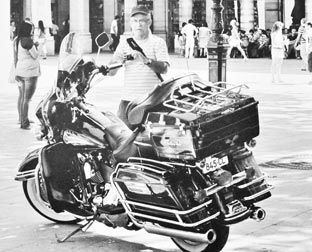 Elegant old fashioned iron streetlamps provided by Ravindra Randeniya and The Film Team marked the lengths of the street scene and added much to the ambience. Lou Ching Wong was instrumental in the creative direction that 'dressed up' the scene and must be applauded for the commendable 'installation art' decor which surely everybody there delighted in. And evidently some had delighted more than others since it was later discovered that some of the invitees had eaten the chocolate chip cookies placed on the table that served as part of a 'cafe corner scene' and were meant strictly as 'decor' and not part of the refreshments! Memorable moments and anecdotes for days ahead were thus not deficient on Rue de la Nostalgie that balmy Friday evening.
Five years now in the running with Nostalgie, a celebration of France through black and white photography themed to a different style each year, Kumar de Silva who unpretentiously admits that his venture into photography is an amateur's efforts to explore a sense of aesthetic expression with the camera, has done justice to those who spent time to gaze at 'France' as he has captured it through the lens. Congratulations Chevalier Kumar de Silva, another successful edition of Nostalgie has been completed. What waits next year round? Time will tell. And until then let a hearty chorus ring out - Vive Nostalgie !