General Election manifestos
UNP: A new country in 60 months JVP: Focus on building a modern society:
The United National Front for Good Governance released its election manifesto, 'A New Country in 60 Months: Five Point Plan' at the Viharamahadevi Park in Colombo on Thursday.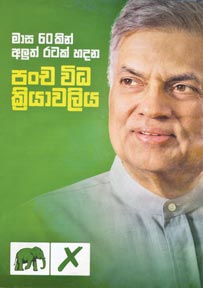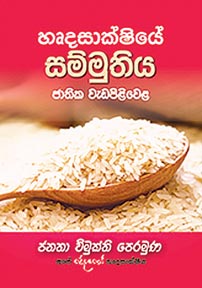 The manifesto outlines the policy of the UNP-led front for the next five years. Its five main points are, growing the economy, fighting corruption, enshrining freedom for all, investing in infrastructure and improving the education system.
UNF leaders led by Prime Minister Ranil Wickremesinghe and several prominent figures who recently defected from the UPFA to form the UNGFF were present.A knowledge-based economy and a market economic system is expected to be created under the Five Point Plan. It will have a human face rather than being socialist or capitalist.
A future UNF government would create one million employment opportunities and a new Development Act would be introduced.
According to the manifesto, the economy would be digitalised. Forty-five high economic development zones, 11 industrial and technical zones, 23 agricultural development zones, 10 fisheries development zones and several tourism development zones would be set up.Through this 2,500 cluster villages would be established. Personal transport would be discouraged while the public transport system would be regularised, and compensation of Rs.1 million has been proposed for death caused due a bus or train accident while the same compensation would also be paid for a trishaw driver's death due to an accident.
Under the action plan, it is proposed to add the allowance granted to public servants recently to their basic salary and a tax ombudsman would be appointed for tax payers.
The Five-Point Plan has also given priority to creating firm and long-term strategies with civil society, the private sector and international agencies to eliminate corruption.
The manifesto proposes to set up a Megapolis in the Western province. A housing development program to build 500,000 houses is also included.
It proposes to allow every student to study for the Advanced Level examination regardless of their Ordinary Level examination results. Six percent of the GDP would be allocated for education and 3% would be for free healthcare facilities. According to the manifesto a new university syllabi would be introduced to train students targeting the international job market. The manifesto also expects to strengthen the victory that was achieved on January 8.
Meanwhile the JVP also launched its national program 'The Accord of Conscious' at a convention at the Sugathadasa Indoor Stadium.
The JVP's election manifesto introduces an extensive program to build the nation.
The key points in the document are, people-friendly rule, improvement of human resources, a modernised and industrialised country, a just society and liberated people.
The main theme 'People's Administration' includes administrative structure, fundamental rights, national security, national unity and foreign policy. The JVP hopes to improve the country's agricultural sector and strengthen local manufacturers and producers. Under the national program that JVP would develop the country over the next five years based on five factors.
Under 'A superior human resource', health, water, food, nutrition, sanitation, sports and physical fitness, science and technology are discussed.
Facts discussed under 'modernised and industrialised country' are industries, agriculture, livestock, fisheries and aquatic resources, plantations, tourism, lands, water management and irrigation, local and foreign trade, monetary sector, power and energy, transport and roads, housing, environment, employment, Sri Lankan expatriates and rural development.
A JVP government would provide a house to all married couples and would also give priority to ensuring the health service meets the needs of the people. It would also create a judicial system which would be efficient and cases will proceed in an efficient manner.
The JVP will have a foreign policy that will place Sri Lanka in a high position in the international arena and focus on building a modern society. The manifesto also calls for investments in accordance with the needs of the economy.