Party promises 2015
A quick look at the Manifestos of the four main parties contesting the August 17 General Elections
UNF - The 5-point plan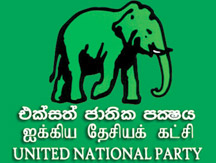 Education
*Streamline school education
*English for A/Ls in every part of the country
*Financial support for pre-school teachers
*Setting up of 18 technical colleges
*Strengthening the university sector to fit into the needs of the job market
*Allocate 6 percent of the GDP towards the education sector
Economy
*Create 1 million employment opportunities
*Strengthen Sri Lanka's position in the international market
*Establish 45 mega economic development zones, 11 industry and technology mega zones,
tourism development mega zones,
23 agricultural development zones,
10 fisheries development zones
*Infrastructure development at village level
*Business Promotions Authority for SME
Agriculture
*Set up Agro-clinics for farmers
*Farmer owned agricultural businesses
*National level body to overlook marketing of agricultural products
*Promote eco-friendly agriculture
Law and order
(including proposed reforms)
*New Police Ordinance Act
*Rectify salary anomalies and promotions in the Police service
*Strengthen counter-narcotic battle
*Constitutionalise the Police Financial Crimes Investigation Division
* Complete overhaul of police service to face new challenges including cyber crime
Youth and employment
*Expand avenues of income for the middle class
Health
*Establish National Health Services Authority to support the health sector
*1000 new dialysis machines for kidney patients
*3% more funds for the health sector from the national budget
*Modernise the MRI
*Emergency mobile medical service from Western and Southern Provinces
Defence and national security
*Training facilities to secure better jobs, housing assistance and a secure future for disabled soldiers and families of war heroes
Public sector reforms
*Allowances to be added to the basic salary
* Housing loans and educational loans for children
* Five-year no pay leave to go overseas for employment
Private sector
Rs 2,500 salary hike Minimum salary to be Rs 10,000
COL
*Minimum salary to be computed according to Cost of Living index
Housing
*Setting up of 500,000 Urban Housing units
Roads and Transport
*Construction of Kandy Highway
*Developing the public
Transport sector
*Compensation scheme for victims of road accident
---
UPFA - A guarantee for the future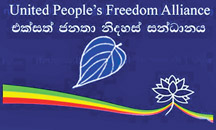 Economy
*Implement large, medium and small scale projects at national, district and rural level to stabilize the economy.
*Concessionary loans to all businesses facing closure across the country
*Achieve a GDP of US$ 100 billion and per capita income of US$ 7,000 by 2020.
Education
*Interest free loans to enable GCE A/L students purchase computers
*Facilitate students failing Mathematics at the GCE (O/L) examination to progress to Advanced Level education and secure a pass within 2 years.
Agriculture
*Rs. 50 guaranteed price per kilo for paddy, Rs. 90 guaranteed price per kilo of tea leaves, Rs. 300 per kilo of rubber and Rs. 70 per litre of milk.
*Continue the fertilizer subsidy
* Rs. 100,000 financial support to tea smallholders to build storage huts
*Tax relief and credit facilities to cinnamon industry
Youth and employment
*?Rs. 50,000 allowance to youth aged between 18 and 25 to facilitate their education
*Rs.10, 000 to all students who gain university admission to purchase books and educational material
*Mahapola scholarship allowance to be increased to Rs. 6,000
*One year internship for all newly passing out graduates
Political and constitutional reforms
*Introduce a political solution within six months.
*Implement LLRC recommendations within one year
*Conduct an immediate investigation on the Central Bank Bond issue
*Set up a 'National Harmony Commission' to uphold 'National Harmony Charter'
*Create 1.5 million new job opportunities within 6 months and eradicate poverty by 2020.
*Reinstate the politically victimised state workers in their jobs.
Public sector reforms
*Place minimum basic wage of government servants at Rs. 25,000
*Resolve the pension anomalies
*Increase the minimum wage of private sector employees by Rs. 3,000
*Provide motorcycles at concessionary rates for Armed Forces, Police officers, teachers, health service personnel, nurses, Grama Niladharis, postmen and others
*Reduce prices of all essential food commodities
For Artistes and Journalists
*Increase interest-free loan scheme up to Rs. 1,500,000
*Establish pension and medical insurance scheme
*Intervene to find solutions to issues faced by journalists
Health
*Establish a special nutrition program to help pregnant women and breast feeding mothers of low income families
*Rs. 7,500 livelihood allowance to families of those suffering from Chronic Kidney Disease (CKD)
*Medical insurance for senior citizens
---
JVP - The accord of conscience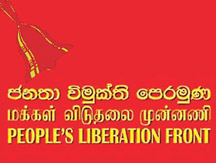 Education
*Ensure equal education opportunities to all irrespective of class, creed or ethnicity or the place where they live
*Accept equal education opportunities to all, a fundamental right in the Constitution
*Make provision of equal education to all, the sole responsibility of the government
*Allocate a minimum of six percent of GDP for education
*Abolish home-work for grade 1,2,3 students
Economy
*Introduce production economy, giving priority for goods and services based on modern socialist policies instead of the ineffective open economic policy
*Introduce a people -participatory industries policy
*Control the State sector and the private sector on a common economic strategy
Agriculture
*Ensure food safety in the country
*Introduce new technology to agriculture to promote agriculture industry targeting export markets.
Introduce a formula to decide on the paddy purchase price.
Law and order (including proposed reforms)
*Upgrade the legal system by introducing new laws on par with modern day conditions
*Ensure the independence of the Judiciary
*Introduce systems to file FR cases against private sector institutions, apart from the state
Youth and employment
*Provide a subsistence allowance for youth in employable age
*Channel personnel with vocational skills for foreign employment with state mediation
*60,000 employment opportunities to be generated per year with the revival of BOI to attract foreign investors
Health
*Recognize the right to live in good health as a basic human right in the Constitution
*Get the service of a doctor who is responsible for family health issues
Defence and national security
*Depoliticise the Tri Forces and the Police
*Abolish the Prevention of Terrorism Act
Return/reintegration/ resettlement
*Establish a Commission against discrimination
*Establish a Truth and Reconciliation Commission
Abolishing the Executive Presidency
*Parliamentary government system
*New electoral system to give fair representation to all ethnic groups according to the wish of the people
Public sector reforms
All allowances to be added to the basic salaries of the state employees
---
TNA - A development program for N-E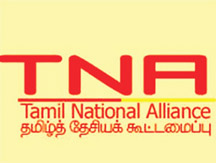 *Avenues for tertiary education should be set up so that those who cannot enter universities can pursue higher education in the relevant field.
*Direct Foreign Investment in the North-East should be facilitated resulting in new industries and employment opportunities being created for youth.
*The TNA will initiate a program to rehabilitate all minor tanks in the North-East to increase water resources for agricultural needs and will also take steps, with expert help to solve the drinking water problem in the North.
*A comprehensive program for the development of the North and the East, including the creation of employment opportunities for youth will be undertaken with the support of the State, the Tamil Diaspora and the International Community.
* It was not possible to implement such a program during the term of the former regime due to its negative attitude and since January 2015 the country has not had a strong and stable government.
*Development programs will be implemented in the North-East, including upgrading the Palali airport to an international airport, and developing sea ports and fisheries harbours.
*There must be meaningful de-militarization, resulting in the return to the pre-war situation as it existed in 1983 before the commencement of hostilities by the removal of armed forces, military apparatus and High Security/Restricted Zones from the Northern and Eastern Provinces. This is imperative in the prevailing peaceful environment.
*Tamils who have been displaced in the North and East due to the conflict must be speedily resettled in their original places; houses provided and livelihood restored in keeping with their dignity.
*After the defeat of the former regime in January 2015 and due to the persistent and indefatigable efforts of the TNA over the past several years, decisions have been taken by the new regime for the return of land and resettlement of the displaced Tamils in Valikamam in the North and Sampur in the East which are being currently implemented.
*Action will be expeditiously pursued to fulfill these objectives. 1,000 acres of farm land has also been released in Keppapulavu in Mullaithivu.
*Tamils who have been in detention under the Prevention of Terrorism Act (PTA) in relation to war-related activities must be released.
*The TNA has been pressing for their release and the abrogation of the PTA and will continue to pursue this objective.