UNF leads UPFA in pre-polls survey
81% rely on TV info:
Employment, youth, CoL key issues:
Nearly 40% prefer Ranil WIckremesinghe as future premier: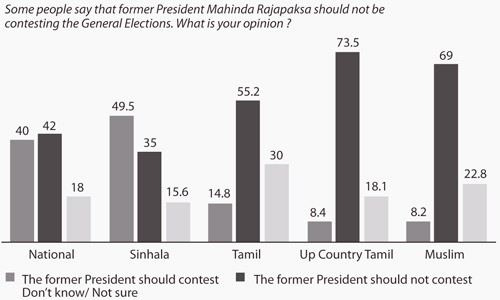 A pre-elections opinion survey conducted islandwide by a local pollster indicates that, in terms of voter preferences, the United National Front for Good Governance has a lead over the United People's Freedom Alliance in next week's parliamentary elections. Nearly 40 per cent of those surveyed nationally prefer Ranil WIckremesinghe as future Premier while just under 28 per cent choose Mahinda Rajapakse for this post. However, in ethnic terms, Rajapaksa seems to have an edge over Wickremesinghe among the Sinhalese in the premiership stakes.
At Provincial level, most voters from the Western, Central , Northern, Eastern, North Western, Uva and Sabaragamuwa support Wickremesinghe as Prime Minister while Rajapaksa leads only in the Southern and North Central Provinces. The survey also found that the news media today play a powerful role in elections with most people surveyed saying that they relied on the news media for information about the elections and that what the media reports will influence the way they vote. An overwhelming majority of Sri Lankans (86.4%) say that the news media is a source of information during election time, while 59 per cent say that the media influences how they vote, the latest pre-poll public opinion survey has found.
Conducted by Social Indicator, Centre for Policy Alternatives, the country's best known pollster on social and political issues, the survey also found that an un-precedented 66.9 per cent of Sri Lankans expect the elections to be free and fair.The survey, the results of which are posted on Social Indicator website, found that 81 per cent of Sri Lankans depended on television for information about and during the election. Just 7.1 per cent relied on radio and only 5.9 per cent read the newspapers for this purpose.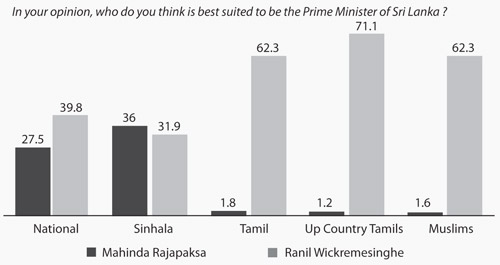 Only 4 per cent of Sri Lankans believe that the forthcoming General Election will not be free and fair. The survey interviewed 1,986 respondents in both the Sinhala and Tamil languages across all 25 districts during the conduct of the survey in the latter half of July.
A summary of other survey findings are provided below:
for Premiership : 62.3% of Tamils, 71.1% of Up Country Tamils and, 62.3% of Muslims prefer Ranil Wickremesinghe, and less than 2% from each community opt for Mahinda Rajapaksa; Sinhalese are 36% for Mahinda Rajapaksa and 31.9% are for Ranil Wickremesinghe.
MR's return: 40% of all polled say that former President Rajapaksa should contest while 42% say that he should not.
Key issues that Sri Lankans believe the next Parliament should address are employment and employment opportunities for youth, reduction in the cost of living, accelerating the development of the country and improving the education system.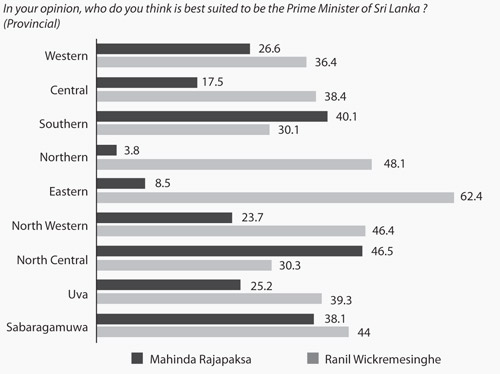 Qualities: Three most important characteristics that Sri Lankans look for in a candidate are what that candidate has done for the country (19.4%), education (17.5%) and that they are not corrupt (15.6%).
Assets : For almost 50% of Sri Lankans it is "extremely important" that the candidates they vote for will have declared their assets while 18.5% say that it is "somewhat important" for them.
Media influence: 59% of Sri Lankans say that the information they get from the media influences how they vote, while 29.6% say that it does not.