Regional Development Bank loans for bio-digesters
The EU-funded SWITCH-Asia initiative on 'Up-scaling Biogas Technology for Sustainable Development and Mitigating Climate Change in Sri Lanka' has begun working towards feasible loan schemes for those who wish to build a bio-digester in their premises.
The world is moving towards renewable and alternate sources of energy given the rising cost of energy caused by the depreciation of fossil fuels. However, for most of those residing in developing nations, renewables are not always seen as an 'alternative' due to its colossal start-up costs.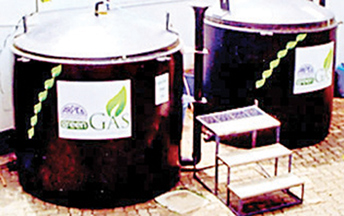 While most people are well aware of the cost being a one-time payment when taking into consideration its long-term positive benefits and implications, complications arise when having to set aside a lump sum ensuring no disruption to the cash flow.
Ruwan Kumara who runs a piggery in Kaduwela wanted a bio-digester in his premises but did not have the financial means to see it through. The first loan granted through the project was in conjunction with the Regional Development Bank (RDB) for a Sri Lak Umaga type 15m, 3-sized bio-digester.
Following the issuance of the first loan, the RDB has received three more loan requests from livestock farmers of Attanagalla.
A loan of Rs. 200,000 has been granted at an interest rate of 7.8% by the RDB Homagama branch.
The RDB has taken an interest in providing loans to bio-gas units siting it as a social need to promote renewable energy options among its clients, which will help preserve our environment.
"The Central Bank has a loan scheme in place for waste management projects called Saubhagya that gives loans at an interest rate of 8%. As the Regional Development Bank we are pleased to have been a part of the first loan granted for a bio-gas project. We have more potential applicants lined up and our field officers are inquiring to verify for suitability," said Manager, Western Province, Regional Development Bank, A.H.M.M.B. Jayasinghe.
"We look forward to granting more loans for bio-gas and other renewable energy projects for smallholders, farmers and individuals in the future," he said.
The project's primary target include s the promotion of bio-gas technology to the tourism and domestic sectors by providing solutions for waste management, encouraging sustainable consumption and production and in the long run, as an alternate source of energy and creating general awareness of the technology.
Apart from this, programs have been introduced to train small and medium entrepreneurs in the technology and equip them with the skills to design, construct and market bio-gas and also act as a connecting agent between bio-gas vendors and potential consumers.