Hitler's art
Ever wonder how world history would have panned out if Adolph Hitler was accepted to the Viennese Academy of Fine Arts and became an artist, like he wanted to, instead of becoming the leader of the Nazis, trying to conquer the world and becoming reviled the world over.
Hitler as the paintings featured in these pages show, was an aspiring artist. In what is described as his Vienna years (1908 - 13), he is said to have created a fairly large portfolio of paintings and postcards and attempted to sell them to try to earn a living.
However, he had not been successful. A number of his paintings were recovered after World War II and have been sold at auctions for tens of thousands of dollars. Others were seized by the US Army and are still held by the US Government.
Many art experts deem Hitler's style as being very calculated when representing architecture in his paintings, with most of his works being copies of the artists of the nineteenth century and many of the masters preceding him.
Though claiming to be the synthesis of many artistic movements, he is said to have drawn primarily from Greco-Roman classicism, the Italian Renaissance, and Neo-Classicism, preferring technical ability of these artists, as well as the understandable symbolism.
In his autobiography Mein Kampf, Hitler described how, in his youth, he wanted to become a professional artist, but his aspirations were ruined because he failed the entrance exam of the Academy of Fine Arts Vienna. Hitler was rejected twice by the institute, once in 1907 and again in 1908.
In his first examination, he had passed the preliminary portion; which was to draw two of the assigned iconic or biblical scenes, in two sessions of three hours each. The second portion was to provide a previously prepared portfolio for the examiners. It was noted that Hitler's works contained "too few heads".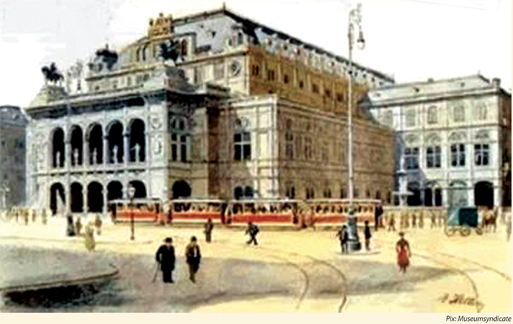 The institute considered he had more talent in architecture than in painting. One of the instructors, sympathetic to his situation and believing he had some talent, suggested that he apply to the academy's School of Architecture. However, that would have required returning to secondary school from which he had dropped out and which he was unwilling to do.
According to a conversation in August 1939 before the outbreak of World War II, published in the British War Blue Book, Hitler had told British Ambassador Nevile Henderson, "I am an artist and not a politician. Once the Polish question is settled, I want to end my life as an artist."
From 1908 to 1913, Hitler tinted postcards and painted houses for a living. He painted his first self-portrait in 1910 at the age of 21. This painting, along with twelve other paintings by Hitler, was discovered by Company Sergeant Major Willie J. McKenna in 1945 in Essen, Germany.
When Hitler served in World War I at the age of 25 in 1914, he is said to have carried his paints with him to the front and spent his idle hours doing art. The works he painted during this period were among his last before he became a politician/dictator. The themes of his wartime painting included farmers' houses, the dressing-station.