A brand with a cause
In what is being described as a brand with a cause, Otara Del Gunewardene's love for animals and interest in fashion, has coalesced to give wing to a fully-fledged fashion brand Embark, which is all set to become a another iconic mark in the country's fashion arena.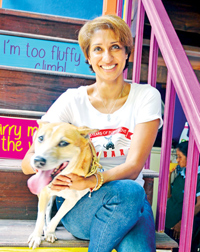 The newest collection of Embark's styles, featuring contemporary designs, was launched on September 12 at its recently opened stand-alone store in Galle Fort.
Much more than T-shirts and active wear, Embark now boasts of a comprehensive fashion collection for those individuals who want to make a unique fashion statement while doing their part towards making the world a better place.
As the brand with a cause, Embark stands to promote a culture of being kind and compassionate to animals. This ethos has been deeply etched in the brand ever since its inception in 2007. Profits from the sales of the brand are directly utilized to help dogs in need.
"We wanted to expand the Embark brand because there is so much that we can do with this to help animals in need. Though it is a retail brand, it has more to do with animal welfare and we want to be able to do more to help them," said Otara, commenting on the venture.
The store itself is unique and represents the quirky, fun and bold personality of the brand. The spacious edifice of two floors is a burst of colours, where one is availed to a plethora of innovative products. Pictures of Embark's much loved mascots-Niko, Bandit and Rozzy, the street pooches adopted by Otara-adorn the walls along with fun slogans that would instantly draw a smile on your face.
Located on Lighthouse Street, the white washed edifice of the store is hard to miss. For those looking for trinkets and quirky accessories, the ground floor houses a plethora of bracelets of vibrant hues, sunglasses, soft toys, T-shirts and souvenirs, leaving one spoilt for choice.
Around 60 percent of Embark's products are entirely produced in Sri Lanka. A homeware section features many arty products, with fun slogans, being true to Embark's identity. As Embark is all about helping animals, they also have a separate section of pooch products for the dog lovers' delight.