LAF's Dementia Friendly programme
What if people living with dementia could walk out of their homes without the fear of being ridiculed by the community? What if they could shop at the local 'pola' or supermarket, eat at their favourite restaurant or coffee shop, or visit their place of worship knowing that despite their non-visible disability, they will be welcomed?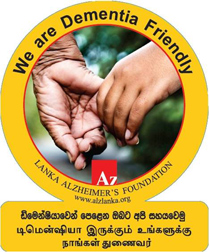 For the majority of those affected by dementia and their carers, such scenarios are no more than a distant dream. The Lanka Alzheimer's Foundation (LAF), is determined to change that into a positive and hopeful reality and are striving to create a dementia friendly environment for persons living with dementia (PWDs).
A 'Dementia Friendly' community program focusing on the social inclusion of persons living with dementia was launched by the Lanka Alzheimer's Foundation on September 1.
The month of September and the 21st of September is globally recognised as Alzheimer's Awareness Month and World Alzheimer's Day respectively.
Through a simple yet informative awareness program, LAF wishes to invite service providers - from police stations, supermarkets and pharmacies, hospitals and dental clinics, theatres and cinemas, restaurants and coffee shops, hair dressing salons and banks to join their challenge of creating a safe, secure and non-judgemental environment. It is an educative and rewarding program, which will help service providers to provide a better service.
On completion of the awareness program, every service provider will be awarded the 'We are Dementia Friendly' sticker. In addition, all service providers who make the commitment to join LAF on this journey will be listed on LAF's web page.
Parallel to this program, LAF will be launching a new 'Identification Bracelet' and a 'Memory Garden Café'.
The bracelet is hypo-allergenic, water and sweat resistant.
The bracelet will be available to PWDs who are at risk of wandering and getting lost.
This tough yet supple device has rounded edges to protect sensitive skin, and will be personalised with contact details of the family carer. Since family members of PWDs wish to protect their loved ones from the stigma and embarrassment, they tend to isolate themselves socially.
The 'Memory Garden Café' will initially be opened at the Lanka Alzheimer's Foundation from the month of September on Fridays from 10.00 a.m. to 4.00 p.m.
Only a communal effort can transform LAF's dream into a reality. For more information contact Lanka Alzheimer's Foundation, on Tel: 011 2667082/2667084; E-mail: [email protected]