The sound of silence....
"I will see you on Friday," I said and, jumped into the train just as the musical note signaling that the doors were closing ended. As the JR Yamanote line commuter sped out of the station, I was looking for a seat in the compartment. Two young Japanese ladies who were seated close-by gestured to me indicating that there was a seat next to them.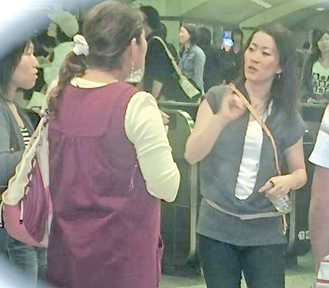 I sat down and they gently smiled. I somehow thought that there was something amiss! And then it dawned on me. The two young ladies - perfectly dressed in their best casual attire - bags, shoes etc everything in place - I am told in Japan every second lady owns a Louis Vuiton product, had animated expressions on their face as they looked at each other. But, alas they were deaf and dumb. They communicated with each other through sign language.
They kept themselves engrossed in their 'silent' conversations - rapidly gesticulating and telling their stories in their own world. It was tremendously overwhelming and I was awestruck following their expressions. They kept looking at me and were referring to something amongst themselves. One of them suddenly opened a page in a newspaper, which they were carrying and showed me an article on India - the piece was on the combatting of terrorism in India. They had even figured out that I was an Indian - which I thought was amazing perception.
Young ladies
The stations whizzed by and soon we were at Shimbashi. The two young ladies also jumped up and we all got down. They were a happy pair - smiling and trapezing down the stairs - as if they were in a hurry to meet someone. Through the ticket turnstiles the crowd surged out; Shimbashi is a very busy place in the evening hours. As the crowd thinned, I saw the two young ladies rushing to join a group of six - seven other young gents and ladies. I stopped for a minute and soaked in the sight. Each one of these young adults were all deaf and dumb and were communicating in sign language.
Complete silence
They greeted these two new comers with warmth, handshakes were done, greetings exchanged - but all in complete silence. They stood there for a few minutes - a mixed group of different nationalities - a tall strapping gent who seemed to be a European, some Japanese and one or two other Asians. The group rapidly conversed amongst themselves; looked like they arrived at a consensus of what to do next! In a few minutes they purposefully strode out into the evening - exchanging smiles, engaging expressions of conversation took place and they walked away.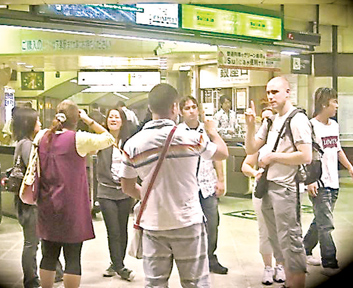 I remember watching the news in my younger days on Doordarshan - there was a window which showed the news to viewers who were challenged. I never understood what it meant, and today in the midst of that crowd in Shimbashi Station, it all just flowed back. I recall the chirping of the birds in our garden, the gentle whoof of Badsha as he ran about, the gurgling sound of water falling, the pitter patter of rain drops, the sound of the hooter occasionally outside of my Bay window as the launches ply in the Yokohama harbour, and most importantly I can hear the voice of my near and dear ones. But what would it be like for these young people? The strains of the song Sound of Silence wafted through my mind.
Most melodious
I was watching a BBC Program the other day which asked viewers to vote for the 'Genius of our Age'. It said that Beethoven, considered one of the greatest beings of the current era, composed the most melodious notes but yet he could never hear them himself, Mozart was deaf and dumb as well. The lights turned green signaling me to cross the road. I looked over my shoulders to see the silhouette of that happy group - completely at ease with themselves.
When I returned to the hotel, I pinged a friend who was on online narrating my experience of the evening. The immediate repartee was, "why do you say they were unfortunate?" They were possibly very lucky, were'nt they? I ponder over the question again and again...
Another Day, A Day where there is only silence.....