'IRANGANI' take 2
The star stidded launch of the Sinhala translation: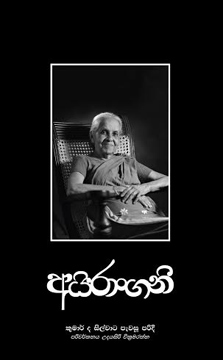 The Sinhala translation of 'Irangani ..... as told to Kumar de Silva', the life and times of Sri Lanka's iconic actress Irangani Roxana Serasinghe was launched last weekend at the Expographics Bookstore in Pelawatte amid a large gathering of her colleagues from the film industry, friends, well-wishers and the media.
This handsome limited edition volume from Samaranayake Publishers and translated into Sinhala by Udayasiri Wickremaratne is a vivid autobiography of the life of this legendary and much-loved stage, screen and television actress.
It takes readers from her carefree childhood days sailing down the Gurugoda Oya on paaruwas and the peace and quiet of Moodugomuwa, off Ruwanwella from the Christmases and the Vesaks of her early years at the Mideeniya Walauwwa from her school days at St. Bridget's Convent where she remembers "wearing a hat with a veil to school", and later Bishop's College and its animated hostel life where the girls "used to eat anything and everything at midnight feasts", to her dare-devil escapades at University when her sister Kamini and she "rode bicycles when good Sinhala girls were not supposed ride'.
This limited edition volume also takes readers to her foray onto the stage first at University and then at the Lionel Wendt Theatre, through her two marriages, to Prof. S.B. Dissanayake and then to Winston Serasinghe, to life in Bristol and London, to her two sons Ravi and Ranjith, to 'Ruk Rekaganno', her voluntary service organisation which takes the message of conservation to grass roots Sri Lanka, to the big screen and her portfolio of death-defying experiences, to the little screen where she doesn't quite enjoy "acting to somebody's (off-camera) hand", and now to a premature semi-retirement at Epitamulla in Pitakotte.
"I consider it a singular honour that Mrs. Serasinghe consented to my playing the role of ghost writer in this project", says well-known media personality Kumar de Silva. "As ghost writer, I also find myself landed in a strange dilemma in that this book is both mine and also not mine. There's a very fine line that divides these two situations which I constantly kept crossing, in what I now consider both a richly fulfilling and totally humbling experience. In retrospect, the both of us had our unforgettable moments these past two years, collaborating on this story, which I modestly hope, will soon end up as a collector's item. The English version is almost totally sold out and I'm confident that this Sinhala translation will follow suit".
"When Kumar offered me the opportunity to be the publisher of Mrs. Serasinghe's biography, I knew instantly that I had been offered the chance to publish a literary gem that will be greatly appreciated by many Sri Lankans.
It is certain to be one of those books which will find a permanent space in the bookshelf of every house it finds its way to. I'm confident that both the English and Sinhala versions will be handed down to the next generation as a cherished possession by booklovers", says the publisher Ranjith Samaranayake. Despite more than well over half a century's fame and unbroken popularity with generations of Sri Lankans, Irangani Serasinghe is still the 'village girl' at heart as she seamlessly combines charm and simplicity with sheer graciousness and absolute dignity.
"The village was an extremely quiet place. Now it is an entirely different story, sadly, with the sound of traffic and people. Right through my life and even to this day, silence became, and still is, a very important part of my life. I have looked for this kind of peace and silence all my life. Unfortunately I cannot find it anywhere today", she says in her autobiography.