MUSIC
'The Jim Reeves Show' with Janaka
Janaka Palapathwala, better known as Sri Lanka's Elvis Presley will get on stage on October 11, this time to bring to life the old time favourites of Jim Reeves, in 'The Jim Reeves Show' scheduled to be held at the Bishop's College Auditorium from 6.00 p.m. onwards. The show is being organised in association with the National Christian Council of Sri Lanka (NCCSL), in order to raise funds to sustain the many programmes carried out by the Council.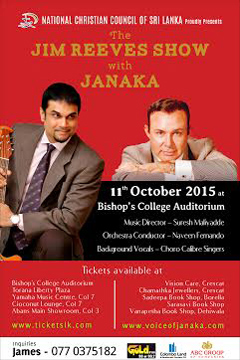 Janaka, who was away from Sri Lanka for more than 10 years, returned to the local music scene last year, to sellout 'It's Now or Never' concert featuring songs of Elvis Presley and a few other legends, earning rave reviews.
This time around he plans to perform a host of Jim Reeves' hit songs such as 'Welcome to my world' 'Blue side of lonesome', 'Bimbo', 'Mexican Joe' and 'He'll have to go'. Music will be directed by Suresh Maliyadde and the orchestra conducted by Naveen Fernando while the back-up vocals will feature Choro Calibre.
A student of St. Anne's College, Kurunegala and Trinity College Kandy, Janaka, first expressed himself musically by tapping out popular tunes on his desktop for the entertainment of his mates. Recognizing Janaka's latent flair for music his parents bought him his first guitar at the age of 14. It did not take him long to master the instrument, and he began to appear regularly in the local musical scene both as a guitarist and a vocalist. At school Janaka performed in musicals and during his free time joined a band set up by his college music teacher Upul Edirisinghe as its lead guitarist.
Upon leaving school, Janaka obtained vocal training and professional guidance from Mrs. Mary Anne David, a prominent teacher who has shaped and inspired many great voices in Sri Lanka. Her training enabled him to perform successfully in many concerts both in Sri Lanka and overseas.Apart from being a versatile musician, Janaka is also passionate about the stock market and is currently a director at Nation Lanka Equities (Pvt) Ltd.
The NCCSL is a common expression of the Protestant Churches in Sri Lanka and has been operational for well over one hundred years and has been constantly engaged in promoting a number of significant peace and reconciliation programmes in the past three decades in association with other religious and community based organizations.
Tickets for 'The Jim Reeves Show' are available at Bishops College Auditorium, Torana Liberty Plaza, Yamaha Music Centre and Coconut Lounge Col 7, Sarasavi Bookshop Nugegoda and many others. For inquiries contact James on 0770 375182.