BOOK LAUNCH
Understanding Buddha Dhamma
Most Buddhists in Sri Lanka are nominal adherents devoid of reality. The time-honoured religious practices are merely passed down from generation to generation, without even a touch on the substance. A 'dana' or any other 'pinkama' is a glaring example in this regard. The traditional custom of keeping the 'Pirith Mandapa' for days intact after an all-night 'pirith pinkama', stems from a false belief among Buddhists.
'Silumina' senior sub-editor Tharaka Wickremesekera in consultation with Ven. Dodampahala Rahula Thera has made arrangements to hold a social discourse - 'Sangayana' to debunk the false beliefs and superstitions associated with Buddhism. Towards this end, three religious treatises authored by the Ven. Thera namely, 'Nivaradi Wath Piliveth', 'Jeewanaliyata Daham Athwelak' and 'Prayogika Budhu Dahama' will be released during the literary month.
These books will help the average reader to understand the Buddha Dhamma in its proper perspective. The book titled, 'Samaja Sangayana' outlines the importance of right religious practices.
The author's extensive knowledge of the Dhamma has facilitated the understanding of intricate Dhamma matters as enshrined in the Tripitaka. The simplified versions and flow of language help understand the complexities of abstract issues.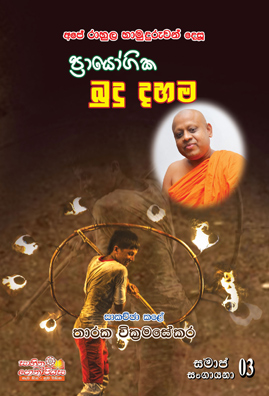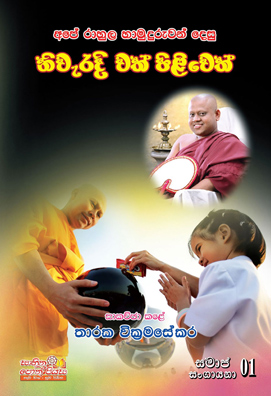 His second book is more informative as it explains the impact of the present social decay and unwholesome lifestyles on children. It stresses the importance of sports for a healthy
life and also the ill -effects of polluting the environment.
The manner on how practical Buddhism could be integrated into our lives is explained in the 'Samaja Sangayana 3'.
How Vesak should be cel ebrated with pride of place being given to simplicity is explained in lucid detail. A sense of commitment on the part of employees will help improve their status in life and their place of work, the Ven. Thera has exhorted.
The Ven. Thera's series of books is an attempt to inculcate values to the society rather than promote religion or philosophy.
---
'Exiled pages' from Manjula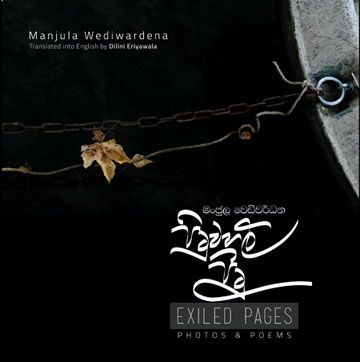 'Exiled Pages' is Manjula Wediwardena's latest offering, combining poetry and photography for a unique rendition of thought and space, frozen through the camera lens and given poetic interpretations.
The book is a collected work of both Sinhala and English versions of the poems, the latter translated by experienced translator and poet, Dilini Eriyawala.
'Exiled Pages' is made available as a 'SaMa' publication and the layouts are designed by another poet, artist and a graphic designer, Waruna Savinda.
Manjula, who published 'Niruththara Samadiya'(Clueless heart) with Shane Mackelvie in 1997, has since published a number of poetry books including 'Pilihuduwi' (Kingfisher Lady), 'Madudandini Madhuwitha'(The Wine glass of honeymoon), 'Mathrukawak nethi Mathubhoomiya' (Landless Motherland), 'Ehela Emathumalata Eheremi'(I wake up to an August call) and 'Nidinethi Nirmala Esaka Agissaka Kandulaka' (Moon melting in the eyes). The exceptional photography-poetry collection, 'Exiled Pages' is Manjula's seventh poetry publication.