A legacy of healing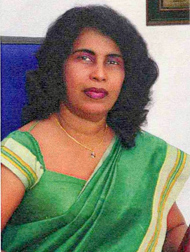 Dr. Ramya L. Premaratne, Co-ordinating Officer National Hospital of Sri Lanka (NHSL) talks to the Sunday Observer about the 150th anniversary commemorative publication of the national hospital, which she compiled. The publication was launched at the hospital premises on March 20 this year.
Putting together a collection of articles and memorabilia that takes one deep into the history of the country's premier medical facility is by no means an easy or enviable task, not if you have been tasked with completing the assignment along with your normal duties within the hospital, in the space of just two months.
However, despite seemingly insurmountable obstacles, Co-ordinating officer of the NHSL, Dr. Ramya L. Premaratne was able to ensure the tri-lingual commemorative opus was published even ahead of its very short deadline - thanks to the co-operation she received from the writers, hospital authorities, translators, printers.
To meet her tight deadline of two months, she had to, as she says, "Badger specialists for their articles, send the History Committee to our documentation centre to find old photos, cajole advertising agencies into advertising with us to raise the funds for the publication, and most difficult of all, get accurate translations for this tri-lingual edition we were doing for the first time. As I had to do this with all my normal duties of supervising various hospital projects, I am grateful to the co-operation I received from the consultants, the hospital director and the editorial board as well as several others who gave their time ungrudgingly," she elaborates.
The result is an illuminating glimpse into the history of the island's biggest medical facility treating thousand of patients (in patients and out patients) from all parts of the country, free of charge.
With messages from President Maithripala Sirisena, Prime Minister Ranil Wickremesinghe, Health Minister Dr. Rajitha Seneratne, Director General Health Services, Dr P.G. Maheepala, followed by hospital Director Anil Jasinghe and several consultants, the book is rich in memorabilia giving the reader rare and insightful glimpses with accompanying photos, conjuring by gone era when medical history in Ceylon was still in its infancy.
Future plans
Dr. Premaratne is now looking forward to seeing many of the Hospital's future plans, drawn by the Director NHSL, who she describes as a 'visionary administrator who wants to elevate the NHSL to international standards' come to fruition.
To mark the 150th anniversary of the NHSL, the Sunday Observer will in the coming weeks reproduce some of the articles written by medical personnel directly involved with the hospital administration, which reveal how a small health facility established in 1864 in Pettah by the British, with just 100 beds rose in strength and size to become the country's largest and leading landmark in health care.
"Dr Jasinghe has drawn up a five-year Strategy Plan, which includes fifteen hospital development projects. They are being handled by the 150th Anniversary Secretariat which is under my purview," she says.
All these projects are aimed at giving the Hospital Square which falls with a 36-acre block of land from Regent Street along Kynsey Road to De Saram Place, the face lift it badly needs.
They include: A car park for vehicles for doctors, patients and visitors to the hospital; Landscaping hospital surroundings with help from the private sector; renovating all (85) wards in the hospital; and an energy saving project to cut down soaring electricity bills, introduction of battery driven electric transportation for inmates in the hospital, to eventually replace wheel chairs and stretchers currently the main mode of internal transport.
Also on the cards, is a training project for doctors, nurses and other hospital staff.
"It will eventually encompass health facilities all over the island once it gets fully underway, and will be conducted at the NHSL Simulation Centre. Health worker including minor staff and voluntary health workers, can participate in these programmes, which are free of charge.
Trainers will be taught how to introduce a cannula in patients, ventilate them when necessary, give CPR," Dr. Premaratne explains.
Signage system
Under the proposed plans, a modern 'way finding' and signage system is also to be introduced after inviting proposals.
Another priority is to develop a modern lab information system within its complex, which will connect labs in every unit and section of the hospital, which in turn will enable doctors to obtain information about their patients' reports even after they have been transferred.
Once these development projects are fully implemented the NHSL will be a Center of Excellence for quality health care, she notes.