AirSerbia gets 'fifth freedom' rights from Mattala airport
Sri Lanka has approved a bilateral air service agreement with Serbia under which AirSerbia gets fifth freedom rights to carry traffic between foreign countries if it uses the Mattala airport in the south which has failed to draw airlines.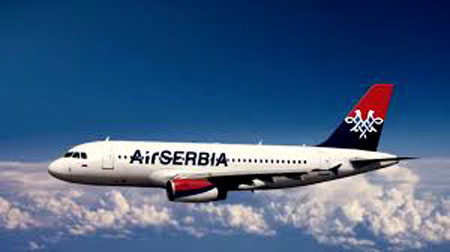 Government spokesman Health Minister Rajitha Senaratne said the agreement between Sri Lanka and Serbia would help develop air services and tourism in Sri Lanka.
"The Mattala International Airport can be made use of by allowing Serbian aircraft to fly to other countries," he told a news conference.
The airport has been criticised for its inability to draw airlines several years after being built with Chinese loans.
Fifth freedom traffic rights refers to the right for an airline to take passengers from its home country, deposit them at another country and then pick up and carry passengers from that country to other international destinations. AirSerbia, formerly Jat Airways, is 49 percent owned by Etihad Airways, the Abu Dhabi-based carrier.
Sri Lanka's air service agreement with Serbia allows designated airlines of both countries, including SriLankan Airlines and Mihin Lanka, to operate up to seven flights a week using third and fourth freedom traffic rights.
These are the usual rights for an airline to deliver revenue traffic from the airline's home country to another country and to carry traffic back.
The agreement also allows the airlines to operate unrestricted passenger charter flights between the two countries.
- ECONOMYNEXT