Vehicle prices soar post budget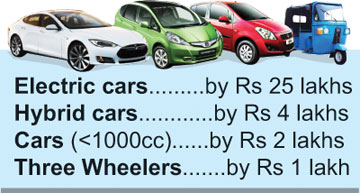 Vehicle prices have significantly gone up with the tax increase in the 2016 Budget Proposal, which introduces a unit rate for vehicles.
Accordingly the price of an electric motor car has increased by Rs. 2.5 million, Hybrid car by 400,000, mini cab by Rs. 1 million, and Maruti cars by Rs. 200,000 and three-wheeler by Rs. 100,000.
President, Vehicle Importers Association of Lanka (VIAL), Sampath Merenchige, said the import tax on hybrid vehicles has been increased by over 50%.
He added that the prices of other vehicles have also been increased, making the purchase of a motor vehicle unaffordable for the average Sri Lankan.
Merenchige said the Association and other importers will hold discussions with the Finance Minister, seeking redress.