Resolving a fishermen's tangle
J. Jayalalithaa, Chief Minister of Tamil Nadu, in a letter to Prime Minister Narendra Modi has called on the government to immediately intervene and secure the release of 14 Indian fishermen who were arrested by the Sri Lankan Navy.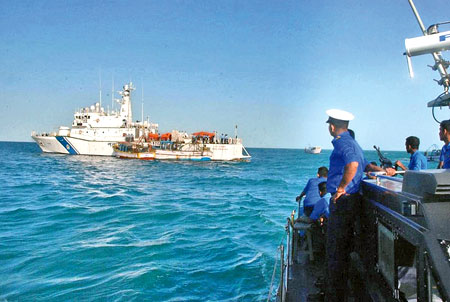 The Chief Minister reiterated her claim that the 'unconstitutional' Indo-Sri Lankan Agreements and the unilateral ceding of the Katchatheevu islet was the root cause of the problem.
She said this livelihood issue of thousands of Tamil Nadu fishermen needs the PM's personal intervention and the Indian government should not allow this issue to "fester further."
"I request you to take immediate action through diplomatic channels to secure the release of the 14 Indian fishermen and 50 fishing boats as well as the early return of the 4 fishermen who had drifted to the Sri Lankan shores due to engine failure on 8th," Jayalalithaa wrote.
Sri Lankan Navy on Thursday (19) arrested 14 Indian fishermen for illegally poaching in local waters. The arrested fishermen and the trawlers were brought to Karainagar and handed over to the officials of the Department of Fisheries and Aquatic Resources (Jaffna) for onward action.
In related news, an Indian Fishermen Rights Group claims that over 500 Indian Fishermen have died in Sri Lankan waters since 1983. The 'Fishermen right to livelihood federation' urged the Centre and State governments in India to provide compensation to the families of fishermen who drowned and were killed by the Sri Lankan Navy while fishing on the high seas, The Hindu newspaper reported.
Pointing out that the Lankan authorities were adopting a pressure tactic of confiscating trawlers while arresting the fishermen on the charges of poaching, the federation said the island nation had detained more than 50 boats while releasing the fishermen and urged the Centre to secure the release of the boats or provide compensation to damaged boats.
Sri Lanka has however only tightened its grip on the fishermen issue with a new Fisheries act that will be implemented from this week onwards. The new laws imposes stricter penalties on such foreign vessels.
The Cabinet of Ministers has approved the amendment of the Fisheries and Aquatic Resources Act No 02 of 1996 for increase of penalties for the offences done in the international sea last month.
Food and Health Organization offers remedy?
Chairperson of National Fishworkers Forum M Ilango is scheduled to participate in a South Asian fishermen leaders' meet, organised by the United Nations (UN) to be held in Colombo for four days starting on Monday. His itinerary includes meeting the fishermen leaders of North and Eastern provinces of Sri Lanka and discuss bilateral issues of the fishing communities.
The Food and Agricultural Organisation (FAO) of the UN had been consulting fishing leaders, representatives of national organisations, fish resource experts and fishery scientists from all over the world regarding the means to ensure sustainable livelihood for small scale fishermen.Accordingly, a Workshop for the South Asian countries is being held between November 23 and 26 at Colombo. The fishermen leaders, experts, scientists and officials from India, Sri Lanka, Pakistan, Bangladesh and Maldives are expected to participate in the workshop. (Agencies)