Appointed Chief Adhikarana Sanganayake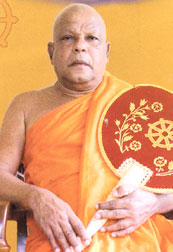 Ven. Tripitakavedi Shastrapathi Poregedara Mangala Dharmakeerthi Sri Ariyawansha Sumanawansabhidhana Thera has been appointed Chief Adhikarana Sanghanayake of the Kalutara District. The Sannaspatra will be presented on November 27 at the Uposhathagaraya, Kandy.
A reception will be accorded to the Ven. Thera on November 29 at 3.30 p.m. at the Mawala Sri Suvisuddharamaya, Wadduwa under the patronage of Ven. Dimbulkumbure Sri Saranankara Wimaladhamma Anunayake Thera, Speaker Karu Jayasuriya and WPC Chief Minister Isuru Devapriya.