Maritime security jeopardised
Says Minister Champika Ranawaka deeming claims of Avant Garde being a magnet for foreign currency a blatant lie: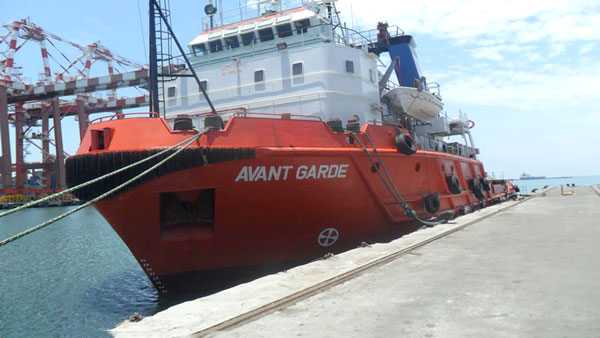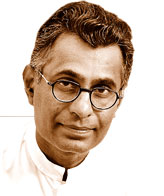 Sri Lanka's involvement in maritime security was jeopardised when the off-beat approach to establish the business as a public – private venture misfired. Key Ministers of the government are in wrangles over the controversy. Allegations have been levelled against all parties.
The notion of Avant Garde Security Services (Pvt) Ltd. that it is a highly profitable, foreign currency magnet is a blatant lie, said Megapolis and Western Development Minister Patali Champika Ranawaka. Outlining facts from the initial stages of the potentially developing business, Minister Ranawaka said that there was a possibility of earning higher profits than what was being currently earned. "The monopoly in the trade was established with the setting up of Rakna Arakshaka Lanka Limited by the previous government," Minister Ranawaka said.
The maritime security venture in hiring Sea Marshals evolved because of the Somalian pirate problem and various countries such as the US, Iran and Russia, were attempting to tackle this issue but have been unsuccessful, explained Minister Ranawaka. Consequently, a new method – maritime security providers – evolved in the world.
"Several American firms visited the country in 2009, to handle the piracy problem in collaboration with the Sri Lanka Navy. Their attempt was to find out how vessels crossing the Indian ocean – specially while sailing close to India and the Maldives, could be protected" he added.
According to the Minister, the Navy was involved in this business, although officially it is prohibited. The Navy facilitated to store arms belonging to Sea Marshals which turned out to be a lucrative business. Seventy companies were involved. Most of these companies hired local, veteran soldiers and brought the piracy problem under control,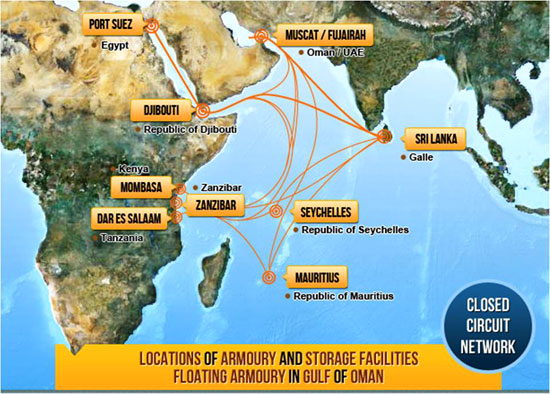 "Because of the flourishing nature of business, it earned 80 – 200 million US dollars per month in 2012 and some people tried to exploit the situation. The first step was bringing Rakna Arakshaka Lanka Limited (RALL) under the Ministry of Defence - thus the monopoly was created," he said.
Despite the fact that RALL is a government-owned subsidiary, the Navy lost its income. The government introduced Avant Garde Security Services (Pvt) Ltd. as the sole representatives of RALL, he added. The first blunder was the Government giving 3400 automatic weapons to RALL without a proper permit. "I challenge all these so-called legal luminaries to produce the permits given to Avant Garde according to existing laws. There were no such letters. Only blanket approval was given. There are over 3000 weapons and it is clear threat to our security," he said.
The second mistake was permitting the floating armoury to be stationed in the Galle harbour, when it should be in international waters. M.V. Mahanuwara, Avant Garde's other ship is being used as a floating armoury. It is an old ship that cannot be moved," he pointed out. This trade, the monopoly of Avant Garde was dabbling in business amounting to thousands of dollars and was exploiting our soldiers. They should have been paid according to the agreements which had not been followed," he stressed.
Minister Ranawaka said they were closely monitoring the outcome of the investigations on the second ship MV Avant Garde. "We will not allow these malpractices to continue and ensure that the culprits would be brought to book. Else, this problem will create a serious threat to national security," he added.
When asked about Major (rtd) Nissanka Senadhipathi's allegations that Minister's Ranawaka, Rajitha Senaratne and Arjuna Ranatunga had taken bribes from Avant Garde Security Services, Minister Ranawaka said "if he has proof why doesn't he make it public rather than taking cover in a medical condition."
---
[Avant Garde workers to petition President]
Ex-employees of Avant Garde Security Services will hand over a letter to President Maithripala Sirisena tomorrow (Monday 23) requesting the government to protect their jobs. Currently over 4,900 ex-employees were employed and the President was requested to safeguard their jobs. "Nearly 7000 people will lose their jobs, if the Government takes over Avant Garde Security Services. All these employees are ex-servicemen and war heroes," said Lieutenant Colonel Nilantha Jayaweera, the former Manager Commercial Vessel Protection of Avant Garde Security Services.
"This is not merely employment – for all our war heroes but a retirement plan. Their lives are in jeopardy," Lt. Col. Jayaweera said.
According to him, all employees were not Sea Marshals but technicians, clerks and book keepers.
Jayaweera said employees of Avant Garde were treated well and refuted allegations that part payment of their salaries was made. "Employees were paid according to the Agreement and treated properly," he said.
He stressed that nearly 7,000 will become helpless without employment if Avant Garde folded up.