Asoka Nihal Senanayake
It is with a deep sense of sorrow that I took this initiative on behalf of our close family, to write an appreciation on the untimely demise of my brother-in-law Asoka Nihal Senanayake. He passed away during the early hours of Friday October 16, 2015. The fact that his death was peaceful and instantaneous was evident from his undisturbed serene facial and physical expressionj. On this fateful day, my wife got a phone call from his wife, that Asoka was lying unconscious and should be taken to hospital. However, a doctor friend residing in the neighbourhood, rushed to his bedside but by then he had passed away after suffering a 'silent heart-attack.
It was only a few hours earlier he spoke to me on the phone to enquire about my health. I am penning these lines not because he was my brother-in-law, but because I had not met such a humane, witty, honourable and most importantly a gentleman of the first order.
Asoka Senanayake had a brilliant academic and professional career. I would be failing in my duty if I don't briefly trace his biography. Asoka was the second in a family of six. But since the eldest, a sister had predeceased him when he was about eight years, Asoka automatically became the most senior, and highly respected mentor and guiding star of the Senanayake family. Asoka's father was also a highly respected person.
It was the tradition of the Senanayake family to organise a family fiesta annually during the Sinhala New Year festivities. Asoka took a lead role in closing the generation gap and ensuring an equal share for everyone at the annual celebration.
At 17 years in 1958, Asoka completed his secondary education at Ananda College, Colombo, and his father recognising his talent sent him to the UK to follow a course in engineering. Asoka opted to do his studies while being employed in an engineering firm, thereby gaining both theoretical and industrial training. On his return, he found employment in the newly created Steel Corporation of Sri Lanka. Being a member of the 'Opening Team' of the Steel Corporation, he and some of his colleagues were sent to Russia for further training.
He returned to the UK and was employed there for about two years in an engineering company, before being recalled by the then Minister of Industries and Scientific Affairs. His assignment, if I recall correctly, was to re-structure the then privately owned Bogala Graphite Mines as a state venture. He was appointed as the Competent Authority.
He was then appointed Head of the National Institute of Management renamed as the National Institute of Business Management.
Thereafter, he served as Chairman of the Board of Management of the Sri Jayawardenapura Teaching Hospital and also as Chairman of the now defunct State Fertilizer Manufacturing Corporation. Although Asoka, at the request of the Government formulated a well thought-out revival plan to make this State venture a profitable organisation; the then Cabinet of Ministers had by then decided to wind up the organisation and sell-off the machinery. Consequently, Asoka had to finally function as the liquidator of this body.
Among his last official assignments were Chairman/Competent Authority of United Motors, and its subsidiary Lanka Ashok Leyland Motors. By this time he had very correctly decided to leave the public service to lead a sober spiritual life and taking part in Dhamma discussions with the high priest of Mallikaramaya Temple at Ratmalana. He leaves behind his wife Kanthi, son Jeevaka, daughter-in-law Devika, grand daughter Minaya and grand son Livinu.
It is my view that Asoka may now be nearing the end of his sojourn in Samsara, and may be within sight of Nirvana.
M. Asoka T. De Silva
---
Kirthi Sri Karunaratna:
King of fashion no more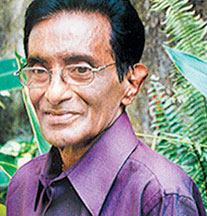 Kirthi Sri Karunaratna, the 'king of the fashion world' is no more! After nearly six decades of untiring work, he left us. It is undoubtedly a great loss to fashion conscious women especially those who craved for publicity.
Kirthi was a charming, well mannered, simple and unassuming person who was sincere and honest to the letter. He was a man of a few words, who believed in the saying , "Lend your ear, to every man, but few thy voice, Take every man Censure but, reserve thy judgement." (Shakespeare) He never spoke ill of others nor did he carry tales against his clients. That was one secret for his popularity.
At an interview with the print media, he recalled his salad days as a young fashion designer, "I started my fashion career just after leaving Ananda College Colombo. I had a love for art and that kindled my talent in designing clothes, my mother was my first model." Paying a tribute to his mother he commented, it was her patience, that I inherited later, which paved my way to succeed as a designer. He had a rare talent of turning out 'ugly ducklings' into 'angels' with his expertise in makeup.
He was well recognized by all he knew him for his genuine comments which never hurt anyone. He was hospitable, and never failed to serve his visitors with his favourite food- club sandwiches with asparagus. The thousands of women dressed by him include brides, models, and beauties for parades. He was so humble in his speech it takes me back to a comment made at the Island Editorial once, "I am saving money to visit the USA." He fulfilled his desire before he bade good by forever. He travelled by bus and continued thus to save for the trip.
He passed away recently after a prolonged illness. It is undoubtedly a great loss to fashion conscious women, young and old! May he attain the eternal bliss of Nirvana!!
I.P.D.
---
Leaves behind a legacy of fashion
Kirthi was the king of Sri Lanka's fashion world where he reigned and held court for more than three score years and ten.
Kirthi is no more but he leaves behind a legacy of not just fashion and trends which he created, but memories that his thousands of friends will cherish, of Kirthi the man, not the fashion guru and fashion icon that he was often termed !
A gentleman to his finger tips, generous to a fault, simple and humble in demeanour all his life, a sincere and loving friend, a master chef; while his home was always home to his many friends; Kirthi was a man in a million!
"It all began with sketching and turning out of clothes, mostly for my mother and cousins while still at school Ananda College, aiming to be a doctor" said Kirthi , reminiscing on his career in fashion over a cup of tea with me some years ago. A career which spanned over three score years and ten, no mean feat!
Kirthi has worked with leading designers of his day, including John Cavanaugh in London, in Paris at the House of Dior and in Rome with Emilio Schubert.
He held on to the title of Sri Lanka's 'Fashion Guru' throughout his lifetime, a title nobody ever disputed or will dispute. I have known Kirthi for over 40 years. Through my involvement in theatre, Kirthi and I soon became good friends.
One of Kirthi's most endearing traits was that he treated everyone alike, regardless of their station in life.
Kirthi over the years dressed more people than most international designers I would think. He endured and improved with age like wine. Kirthi has been friend and confidante of one and all and has even dressed three generations of brides.
In the '50's and '60's and even in the '70's and '80's, fashion shows were not the products of 'high tech' as they are now, with laser beams flashing and strobe lights popping and every other gimmick you can think of. Instead they demanded craftsmanship, ingenuity, creativity and a very fertile imagination. Resources were meagre, prior to the advent of TV, especially Fashion TV, all we had to go by were the occasional foreign magazines. Kirthi achieved the impossible; putting on fashion shows and beauty pageants which were an absolute wonder to behold. In the theatre and cinema, once again Kirthi excelled. Apart from designing costumes, he enjoyed taking part in films and plays. Once again Kirthi displayed his versatility excelling in these areas as well. The pinnacle of costume design for Kirthi was doing the outfits for Lester James Pieris' 'Nidhanaya'; a film Kirthi recalled demanded every ounce of his creativity .
The versatile Kirthi also possessed a good voice which was put to use even as recently as a few months ago. He has sung with Deva Surya Sena, the Colombo Philharmonic Orchestra, at concerts and private parties and was in demand for his musical virtuosity as he was for his fashion sense. Yet another achievement was the fact that Kirthi wrote an unbroken column for the newspapers for over 50 years.
Kirthi over the years never changed - be it his attitude to life which was one of enjoying himself and living life to the full, how he dealt with the many and varied people who walked in and out of his life on a daily basis. His appearance was more or less the same as when I first set eyes on him!
Kirthi worked daily and more often than not a seven-day week, partied every night, more often at more than one venue, found time to cook and has never to my knowledge, indulged in 40 winks in the afternoon.
How did he do it ? I think it was his attitude to life which was 'try everything and do it to the best of your ability, enjoy yourself no matter what and take each day as it comes!' A formula that worked as we all know.
Today we celebrate Kirthi's life, his phenomenal achievements and wish him godspeed.
We will miss him but his memory will remain in our hearts as his clothes will continue to hang in our cupboards!
-Anusha David