All that's feminine
Revolutionising the way women experience fragrances:
Unilever's House of Lux, a celebration of the enduring power of Fine Fragrances and all that's feminine, saw a gathering of the elite including beauty queens, film stars, models, corporates and socialites, at the Cinnamon Grand on November 16, when this iconic beauty brand once again revolutionised the way women experience fragrances, by infusing it with Fine Fragrances in an exciting range of soaps.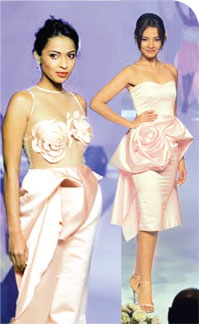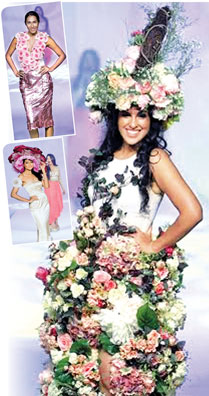 The unique feature of both LUX Soft Touch and LUX Silk Sensation, was that the fragrance for both soaps have been created by Master Perfumers Martin Koh and Stefanus Agung Nugroho, of the reputed House of Firmniche.
The two new re-launched soaps were introduced to Sri Lanka's elite, at a Fine Fragrance extravaganza and sensorial experience, the like of which had hitherto not been experienced in Sri Lanka.
The Fine Fragrance story was brought to life when Theatre combined with Fashion via a French Rose inspired theatrical fashion show with the country's leading models taking to the catwalk dressed in breathtaking French Rose inspired couture outfits designed by Indeewari and Sammani.
French Rose inspired cakes and refreshments, added to the evening's magical feel.
Amongst the celebrities present were MP Hirunika Premachandra, Deputy Chief of Staff Rosy Senanayake, Hair stylist and Beautician Ramani Fernando, Designers Yolanda Aluwihare, Dharshi Keerthisena, film stars, Nadeesha Hemamali, Sachini Ayendra, Saranga and Umali , Beauty Queens Stefanie Siriwardhana, Singers Bhathiya , Santhush and Dushyanth Weeraman and many others.
"Presently, roses are one of the key dominant elements in fine fragrance concoctions - a definitive and singular tone that takes centre stage" said Ramani Fernando.
"Unlike in previous eras of trends and tantalising scents, a fine fragrance isn't limited to a bottle anymore. That is why Lux is different. Rather than using it sparingly and strategically, Lux's fine fragrances give you the chance to immerse yourself in the perfect scent," said Unilever Sri Lanka's Personal Care Marketing Director, Sharmila Bandara.
"Both soaps are unique and unforgettable and are bound to remain amongst the top selling soaps of all time, while the Fine Fragrance that is at the heart of these soaps will ensure it will endure and outlive all other brands of soap," said Lux Brand Manager, Anya Dalpadado .