Flu shots
How safe, how effective are they?
Not viable for State hospitals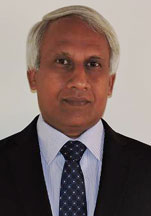 Director, National Hospital of Sri Lanka, Dr Anil Jasinghe, echoing similar sentiments, also informed the Sunday Observer that flu shots were available in the country, emphasising that they were only available in leading private hospitals. Asked how safe they were, he said they had not received any negative reports so far. "However, since the virus mutates, and the vaccine has to be replaced every season, it is difficult for a welfare state like ours to give them free of charge to every patient who makes a request," he pointed out.
With the seasonal viral fever at its peak, global focus has once again shifted to the influenza vaccine, with everyone keen to keep the highly contagious infection at bay, especially during the holiday season. But how safe and effective are these flu shots and more importantly are they available in Sri Lanka? Consultant Chest Physician, Welisara Chest Clinic, Dr Saman Kuleratne, answers some of these questions in this interview with the Sunday Observer.
Q: With the sharp surge in viral influenza now spreading to all parts of the island, many people are desperately trying to find ways to prevent the infection that has forced both children and adults alike to stay at home. Is the influenza vaccine available in Sri Lanka?
A: Yes. Influenza vaccine is freely available in most leading private hospitals, but not in the State hospitals. Influenza is a self limiting illness in healthy people. Adequate rest and symptomatic measures are the only treatment indicated. Complications occur only in a minority, especially those who have chronic health problems such as asthma, chronic lung problems, Diabetes, Heart diseases, and extremes of age. Therefore the flu vaccine is not indicated for each and every person.
Q: Why is it not available in government hospitals?
A: If it is made freely available, it is likely the vaccination may be over used. For one thing, it is an expensive vaccine, to be given to the thousands who attend our OPDs every day. For another, they are valid for only a temporary period and have to be renewed every year or so, as they don't give a lasting immunity against the disease. The flu vaccine is routinely indicated only for the risk groups.
Q: Why doesn't it give a permanent immunity?
A: Because the virus changes (mutates) every season and the vaccine thus has to be altered as well to be effective.
Q: Is it safe for those using it?
A: Yes.
Q: Rhinitis is also a common ailment at this time around. Explain what Rhinitis is.
A: Rhinitis is of several types, commonest being viral and allergic. Allergic type is generally referred to as 'peenus amaaru' in the local dialect.
Q: What is the difference between viral and allergic rhinitis?
A: In allergic rhinitis you would probably get up sneezing in the morning these days because of climatic conditions dust, pollen and bacteria in the air.
The symptoms are similar in viral flu where you have a runny nose, cough, sneezing and fever. But unlike viral flu, where the symptoms disappear after a few days, allergic rhinitis symptoms last for several months or even years. In addition, attacks of viral flu in asthmatic patients can exacerbate their condition. In some, the flu can lead to pneumonia.
Q: What about persons with TB?
A: People with TB end up with some scarring of the lungs after they recover. So they are more prone to get secondary infections following influenza.
Q: Your advice?
A: Cover mouth and nose when sneezing. Cough and sneeze into a disposable tissue which should be discarded immediately into a bin. Wash hands thoroughly with running water and soap and use disinfectant if you go outside. Avoid large crowds. If the fever persists and you have difficulty in breathing, seek help from a qualified medical practitioner immediately.