DRAMA
Await the return of The Dictator
The stage play 'The Dictator' written by H.C.N de Lannerolle and E.M.W. Joseph is a vintage Ceylonese classic that came alive on the boards of the Namel and Malini Punchi Theatre in Borella from October 21 to 25. Directed by the veteran theatre practitioner Namel Weeramuni, the play, which I believe, is very relevant to our present climate as a hilarious comedy that carries a significant message, proved to be a praiseworthy production.
Theatregoers will surely delight on learning that the Punchi Theatre will have another three -day show run of this delightful stage play in December.
I met up with the director at his residence, on the third floor of the Punchi Theatre building, early last week to find out about the upcoming show and what the response was like for the debut run last month.
"The responses have been very good, and very encouraging I must admit," Weeramuni said with his characteristic conviviality, adding that one of the most noteworthy responses he had got had come from Arun Dias Bandaranaike.
Referring to the veteran broadcaster who had apparently watched the play and had found it to be remarkably entertaining, Weeramuni likened Bandaranaike's response to a very heart-warming gesture. "Arun very thoughtfully sent me a two-page letter after watching the play. In it he spoke very well of the whole production, and especially praised the performance made by Waraks," Weeramuni said referring to the renowned actor of the screen and stage –Wijerathne Warakagoda, who plays the lead role of 'Ralahamy' in 'The Dictator'.
Declaring 'The Dictator' to be the first Ceylonese vintage play he had directed, Weeramuni disclosed that the first play he had watched directed by Lannerolle was –'He comes from Jaffna', which incidentally was written by E.F.C Ludowyke. "I saw it at the Lionel Wendt in either 1955 or '56, I can't recall exactly which year, but it was during that period," he said, elaborated that later he had watched 'Well Mudaliyar How?' the riotous comedy written and directed by Lannerolle. The experience had made a deep impression on him.
Ceylonese vintage plays are a genre of their own. The sense of satire and wit they carry together with the critique they offer of a bygone era provide much ground to explore society and its transitions from then, to now. It is therefore truly a reason to celebrate that these plays are once again finding colour, form, voice and motion on the boards of theatres today.
"I may do a few things to enhance the production in the upcoming run. And I might do some new things with the character of the 'Kattadiya'," revealed Weeramuni with a chuckle, since the character of the occultist offers the means to add an additional dimension of entertainment that is very theatrical to the viewer. When asked what plans he has for this production in the days ahead, he said he is very much interested in offering special shows to schools at special concessionary rates in order to help popularise this genre of stage plays among schoolchildren. But as of present, preparations and rehearsals are underway and the cast is getting into gear to once again bring to life 'The Dictator' at the Punchi Theatre on the December 2, 3 and 4 to the delight of theatregoers.
---
Fun times With Wilson Gunaratne's Charitha Atak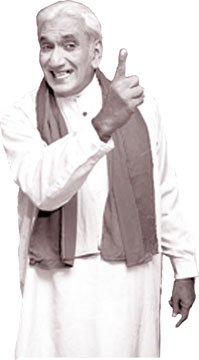 *A stress free evening
*"Laughter is a powerful antidote for stress, pain and conflicts"
*Nothing works faster to bring your mind and body back into balance than a good laugh. Humour lightness your burdens, instills hopes and connects you with others. 'Observe and experiment'
Wilson Gunaratne's 'Charitha Atak' Political comedy (the newest version) with a short speech about the benefits of laughter by Dr. Damith Hettiarachchi will go on boards at the Bishop's Auditorium (Colombo 2), at 6.30 p.m. today, (November 22)
'Charitha Atak' is the only stage play in Sri Lanka in which one actor portrays eight different characters with eight different voices. It's not an easy task to create a political satire. The creator should be well conversant with the political culture, statement made by politicians from time to time, their endless promises, their idiosyncrasies, strengths, weaknesses and last but not least the creator should not only be witty but also gutty. The international acclaimed actor Wilson Gunaratne meets these specifications.
The play has been organized by HNB Retired Employees Association in aid of the Critical Illnesses Fund.
Tickets will be available at the Bishop's Auditorium Counter from 12 noon onwards today.

For further details contact 0722251865 or
0710351865 or E-mail [email protected]


---
Sarachchandra's 'Maname' at the Wendt
---
Balloth ekka bae
Two special shows of 'Balloth Ekka bae', the hilarious comedy written and directed by Ravindra Ariyarathne will be staged on Saturday, November 28, at 3.30 and 6.45 p.m. at the Kotte St. Thomas College New Theatre and Sunday, December 6, at 3.30 p.m. and 7.00 p.m. at the Lionel Wendt Theatre – Colombo 7.
With a host of popular artiste including, Wijaya Nandasiri, Kumara Thirimadura, Roshan Pilapitiya, Gihan Fernando, and Ferny Roshini, the play has Shantha Peiris and Luvoline Vandawall adding the extra touch with their music composition and background creations. Stage management is by Sumedha Prasanna.
Jude Srimal is the main organizer of the drama. Tickets for the Kotte show is available at Sarasavi Book Shop-Nugegoda, Sakya Book Shop- Battaramulla, Ola Book Shop-Thalawathugoda at the gates. Tickets for the Lionel Wendt Show (all seats are box planed) and available only at the theatre.