Port City talks before April 7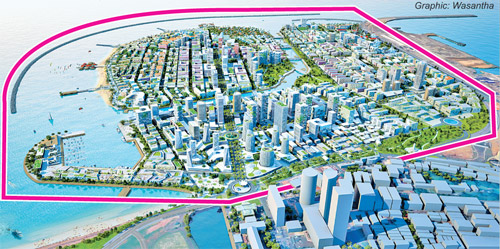 Negotiations between the government and the Chinese investor of the US $ 1.4 billion Colombo Port City project will be finalised before Prime Minister Ranil Wickremesinghe leaves for China on April 7 to launch the project under an amended agreement, Secretary to the Megapolis and Western Region Development Ministry, Nihal Rupasinghe told the Sunday Observer.
He said negotiations are now under way with the Chinese investor, China Communication Construction Company (CCCC) on the original agreement that has to be re-negotiated and amended.
The Secretary said a committee consisting of government officials are continuing discussions with the Chinese investor to finalise negotiations before April 7.
"The key components that are under negotiation are the duration of the leasing period and also the extent of land to be reclaimed for the project," he said.
Compensation for delaying the project is also under negotiation at present and it will be included in the amendment agreement.
When official negotiations are completed, the report will be presented to the Ministerial Committee for approval and then to the Cabinet for its final approval.
Environment clearance for the project was granted, subject to 72 conditions and the Chinese investor agreed to implement the project adhering to these conditions," he said.
A senior official of the Coast Conservation Department(CCD) said conditional environmental clearance was granted for projects giving guidelines when implementing the project.
The key issues that were raised by the CCD and the Coastal Resources Department, the approving agency of environmental clearance for the project, had stipulated that prior approval should be sought from President Maithripala Sirisena to reclaim the sea bed.
"Development should include that fishing and fish diversity should not be disturbed by the project," he said.
The China Harbour Engineering Company, the project company for the Colombo Port City on behalf of the China Communications and Construction Company this week endorsed the Government's announcement on the implementation of the project which was suspended for one year by the government, pending environment clearance and renegotiating the agreement.