Thomians retain Mustangs Trophy
Hapuwinna, Tillekeratne and Kannangara fashion win: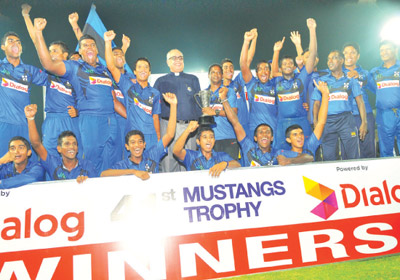 A superb unbeaten knock of 65 by debutant Sithara Hapuwinna and two fine spells of bowling by Ravindu Tillekeratne (five for 36) and Dineth Kannangara (four for 34) helped S Thomas' College, Mt Lavinia beat Royal College, Colombo by four wickets to retain the Mustangs Trophy for the third successive year in the 41st encounter played under lights at the R. Premadasa Stadium yesterday.
The Thomians were not too happily placed (99-4), until Hapuwinna joined skipper Sachitha Jayatilleke in a partnership of 53 runs for the fifth wicket before the skipper was run out for a hard-hit 36 runs including two sixes.
After Jayatilleke's departure Hapuwinna took control to frustrate the Royal bowlers with an excellent batting display stroking to all parts of the ground.
The left-hander played a brave knock of 65 off 52 balls which included three sixes and six fours to steer the Thomians to victory.
Earlier, Yohan Mendis and Direndra Gunatilleke made useful contributions to steady the Thomian innings after dangerman Rashmika Opatha departed being trapped lbw.
Yohan Mendis was dropped at second slip off Vithanage. Rashmika Opatha, who hit two consecutive fours against Helitha Vithanage was trapped lbw in the same over.
Vithanage bowled well but was unlucky as the wicket-keeper dropped Thiran Dhanapala.
Royal's fielding was sloppy as they dropped three catches. Thomian captain Jayatilleke blasted two sixes down the ground off Ganith Sandeepa in the 39th over which enabled Thomians to cross the 150-run mark scoring 14 runs.
Royal was able to remove dangerous Jayatilleke in the final over before the crucial power-play as the skipper perished in a run out. S. Thomas' scored another 13 runs in the first power-play over as Hapuwinna smashed two boundaries.
After winning the toss, Royal decided to bat first and looked positive to put on a big score on the board. Though Royal batsmen played well against pacemen they struggled to cope with the spinners led by left arm chinamon bowler Tillekeratne and off spinner Kannangara.
Ravindu Tillekeratne, who started the spell with a maiden over to Royal skipper Geeshath Panditharatne, broke the threatening partnership of 63 runs between the skipper and Kariyawasam as the latter was bowled out round the wicket.
Eariler, Thomian paceman Senal de Silva struck in the third over as the right armer found the outside edge of left handed Naveen Vidanapathirana. Both opening bowlers were more disciplined
Royal Captain Panditharatne (59) hammered 16 runs in the 32nd over bowled by Senal de Silva hitting two fours and a six over mid-wicket.
Thomian spinners Kannangara and Tillekeratne controlled the Royal run rate during the crucial power play overs.
Royal College innings
Naveen Vidanapathirana c Gunatilleke b de Silva		04 
Ronuka Jayawardena c Perera b Kannangara		39 
Pasindu Sooriyabandara c Kodithuwakku b Kannangara	11 
Geeshath Panditharatne c & b Kannangara			59 
Thiran Dahanapala c Kodithuwakku b Kannangara		03 
Malith Kariyawasam b Tillekeratne			30 
Helitha Vithanage b Tillekeratne			31 
Ganith Sandeepa st Gunatilleke b Tillekeratne		09 
Himesh Ramanayake c Kodithuwakku b Tillekeratne		03 
Lasith Embuldeniya not out				04 
Devindu Hettiarachchi b Tillekeratne			03 
Extras (lb 1, w 12, nb 1)				14 
TOTAL (all out in 48.2 overs)			       210

Fall of wickets: 1-12 (Vidanapathirana), 2-49 (Sooriyabandara)
		 3-65  (Jayawardena), 4-77 (Dhanapala)
		 5-141 (Kariyawasam), 6-170  (Panditharatne)
		 7-194 (Vithanage), 8-199 (Sandeepa)
		 9-201  (Ramanayake), 10-210 (Hettiarachchi)
Bowling: de Silva 6-2-32-1
	 Opatha7-0-36-0
	 Jayatilleke 7-0-35-0
	 Kannangara 10-0-34-4
	 Kodithuwakku 9-0-36-0
 	 Tillekeratne 9.2-1-36-5
	 Jayatilleke 7-0-35-0

S Thomas' College innings 
Yohan Mendis C Vithanage b Kariyawasam			20
Rashmika Opatha Lbw b Vithanage				12
Ravindu Kodithuwakku Run out (Hettiarachchi)		26
Direndra Gunatilleke C Kariyawasam b Ramanayake		21
Sachitha Jayatilleke Run out (sub Perera)		34
Sithara Hapuwinna Not out				65
Ravindu Tillekeratne Lbw b Sandeepa			11
Senal de Silva Not out					03
Extras (lb 10, nb 14)					24
TOTAL (six wickets; 45.5 overs)			       216

Fall of wickets: 1-23 (Opatha), 2-60 (Mendis), 3-85 (Kodithuwakku)
		 4-99 (Gunatilleke), 5-152 (Jayatilleke)
		 6-189 (Tillekeratne)
Bowling: Ramanayake 9-0-36-1
	 Vithanage 6-0-25-1
	 Sandeepa 8.5-1-49-1
	 Kariyawasam 8-1-25-1
	 Embuldeniya 8-1-26-0
	 Hettiarachchi 6-0-45-0