RTC Premier Cup Race at Nuwara Eliya today
The newly formed Royal Turf Club is committed to ensuring racing is returned to the prestigious position it has long held and is elevated to the highest standard of competition. The Royal Turf Club is passionate about and dedicated to ensuring and upholding ethics through maintaining a ZERO tolerance policy towards drug and animal abuse. For the first time in Sri Lanka racehorses will be given drug tests prior to racing.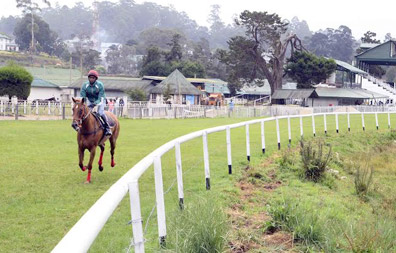 In the past in Sri Lankan racing there may have been a dark side in which cruelty and abuse through doping destroyed the lives of these beautiful animals.. As passionate equestrians with a wealth of knowledge and experience in the field of racing The Royal Turf Club,headed by renowned CEO Wayne Wood and it's dedicated committee of consummate professionals, was formed to ensure that such cruel and inhuman treatment of horses is brought to a complete halt. The Royal Turf Club races with the horses welfare in mind.
The Royal Turf Club adheres strictly to the rules pertaining to the welfare of horses, ill treatment and anti - doping under the Rules of Racing, they are of the highest priority.The thoroughbred horses are in clean , well ventilated stables and are exercised in the morning and walked in the afternoon. They are well fed and watered as any athlete should be. Trained stable hands attend to the care of these most precious animals. Surprise inspections are also carried out by Stipendiary Stewards to ensure that they are being well cared for. The Royal Turf Club will also set up a modern specialist equine hospital that will provide veterinary services to horses. It is vital that we ensure and uphold ethics through maintaining a zero tolerance policy towards drug and animal abuse.
Among the long term development objectives of The Royal Turf Club is a drive to strengthen the sport's growth avenues by engaging more young people through gainful employment on full, part time and seasonal basis.