Yoga for children
How's my pose
Yoga uses breathing techniques, exercise and meditation to improve health and happiness. It is a system of exercises for mental and physical health. In ancient Hindu philosophy, it taught a person to experience inner peace by controlling the body and mind. The basic premise in yoga is union - the various aspects of existence such as the body, breath and mind. The word Yoga comes from a Sanskrit root 'Yuj', which means 'to unite'.
Upashantha Hettiarachchi, the chief instructor at his Yoga Physical Training Institute, has been conducting Yoga classes for the past 27 years. It was his interest in sports since childhood that made him set up a training institute. He conducts Yoga training for all age groups, both young and old.
Hettiarachchi, who began practising Yoga at the age of 16, under Master Nihal Karunarathne and began coaching in 1986 said, "My aim is to create a physically fit generation.
Everyone likes to have a beautiful and healthy body. Practising Yoga from a young age helps children to develop mentally and physically. There is no age limit for Yoga."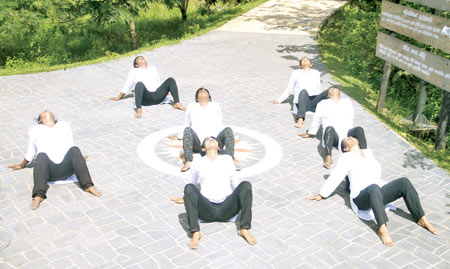 Kushalna Malshadi Adikari, a Grade two student at Kelani Vidyalaya follows Upashantha Hettiarachchi's Yoga classes. She follows classes once a week for two hours at the Heiyanthuduwa temple premises in Kiribathgoda. She said, "I enrolled for the classes because I like Yoga."
"Whatever that I learn in class, I use to practice at home. It has helped me mentally and physically. I can concentrate well on my studies.
I remember well the things my teacher taught me at school. I can eat well and drink plenty of water. I can sleep better than before after I started doing Yoga," she said.
Yoga, a physical exercise should be practised as an art of meditation. Yoga poses and breathing techniques help to improve blood circulation. Pathma Asana, Halasana, Makulu, Deva, Garunda, Mathsya, Sinha are some of the Yoga poses that help maintain a healthy body.
Hettiarachchi said on the physical level, Yoga postures are designed to tone, strengthen and align the body. "These postures are performed to make the spine supple and healthy and promote blood flow to all the organs, glands, and tissues, keeping all the bodily systems healthy," he said, adding that at the mental level, Yoga uses breathing techniques (pranayama) and meditation (dyana) to calm and discipline the mind. Yoga, is a way of living healthy and with peace of mind, he said.