Unnecessary HAZZLE RUINS school cricket - Marvan Atapattu
Former Sri Lanka captain and ex-national coach Marvan Atapattu said unnecessary competitiveness has destroyed the standard of Sri Lanka's
school cricket, which was once considered to be the best in the world with a well-knit tournament structure.
Atapattu, who has won the prestigious Observer Schoolboy Cricketer of the Year award in 1990, said unwarranted competitiveness created by coaches, school authorities and old boys has caused the deteriorating standard of school cricket. "They force cricketers of their school to win matches in all formats. They are not interested in producing quality cricketers who could dish out top class cricket but only insist on winning matches at any cost. That kills the standard of school cricket," said Atapattu.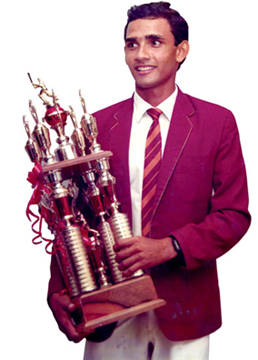 He said that most schools now tend to employ young coaches who could press the cricketers to win matches but are not interested in producing quality players who could step into the national team. "During our time, we counted how many former cricketers of our school are in the national team. But it's not the case anymore," he said.
Atapattu attributed poor standard of cricket dished out at inter-school matches at present as the main reason for deteriorating spectator interest
in school cricket. When asked about the tremendous spectator interest that attracted during his era of school cricket, some two-and-a-half decades ago, Atapattu said there are several other factors, although the main reason for such development is poor standard of school cricket.
"Times have changed. Everybody is busy with their day to day work.
Nevertheless, we could still attract spectators to inter-school matches if they could witness some high quality cricket, instead of the monotonous stuff we see quite often now. There are hardly any outstanding players who could attract crowds. Unlike during our era, there aren't any classy schoolboy cricketers whom we could spot early as future Sri Lanka prospects," said Atapattu who has made an immense contribution to Sri Lanka cricket as a stylish opening batsman who is famous for his copybook stroke play.
Explaining how the country's school cricket could regain its glorious past, Atapattu said coaches should be careful about the upbringing of schoolboy cricketers. "We must go back to where we were. Coaches must teach the basics properly, the correct technique and not instruct them merely to win matches at any cost. What coaches do now is to try out modifications at very early age. Coaches remote-control their players and expect the boys to react," he explained.
Atapattu said that the present day schoolboy cricketers are subjected to undue pressure by their coaches, principals, masters and old boys. "The
system is under pressure, trying to win many matches as possible in different formats during a single school cricket season," he said.
Atapattu, who has aggregated 5,502 runs including 16 centuries and 17 fifties in 90 Tests, commended the Observer-Mobitel Schoolboy Cricketer of the Year contest for inspiring budding schoolboy cricketers, giving his personal experience as a junior cricketer at Ananda College, Colombo.
"When I was a student at Ananda, I witnessed the Observer Schoolboy Cricketer of the Year awards show in 1982. I saw Arjuna Ranatunga emerging out of a huge cricket ball, erected on stage, to receive his top award as the Observer Schoolboy Cricketer of the Year. That was a great inspiration to me and I thought that I could make my family, the team and my school proud if I could win that top award one fine day. The things worked well for me to emulate that feat eight years later," Atapattu explained his first-hand experience about the mega show.
Few months after winning the prestigious Observer Schoolboy Cricketer of the Year award in 1990, Atapattu was selected to make his Test debut for Sri Lanka on November 23 the same year, against India in Chandigarh. He made his ODI debut a month later - on December 1, 1990 against India in Nagpur.
"Almost all those who have won top awards at Observer Schoolboy Cricketer of the Year show have stepped into the national team in next to no time and many of them have established their mark as top national players," he concluded.
The stylish opening batsman has proved his class in limited over cricket too, aggregating 8,529 runs in 268 ODIs at an average of 37.57 with 11 centuries and 59 half 'tons'. It has been a treat to watch when Atapattu was in full cry, mostly in Tests with high-elbow cover-drive being his signature shot.
Atapattu has scored six double-hundreds in his Test career, a feat bettered only by Don Bradman (12), Kumar Sangakkara (11), Brian Lara (9), Mahela Jayawardene and Wally Hammond (7 each). Virendra Sehwag, Javed Miandad, Ricky Ponting and Sachin Tendulkar too have scored six double centuries each but had played more Tests than Atapattu.