Dr. Karandagoda - COO, Durdans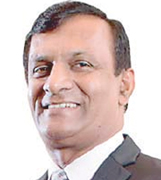 Durdans Hospital recently appointed medical administrator Dr. Wimal Karandagoda as its Chief Operations Officer and Director Medical Services.
Dr. Karandagoda, a Senior Medical Administrator in Sri Lanka obtained his MBBS in 1981 from the Medical School of the University of Peradeniya and Master of Medical Administration in 1996 from the Post Graduate Institute of Medicine at the University of Colombo. He is also a scholar of the Health Services Management Centre of the University of Birmingham, United Kingdom where he obtained his basic training in Health Planning and Management in 1990.
Dr. Karandagoda has been trained in Manila, Philippines and Malaysia in 2003 and 2006 respectively as a Productivity Specialist at the Asian Productivity Organization.
He counts over 30 years of experience as a Medical Officer and a Senior Medical Administrator in the Ministry of Health working as Directors of Teaching Hospitals, Regional and Provincial Director of Health Services and Director (Policy Analysis and Development) at the Ministry of Health.