Significance of Poson Poya Day
Poson Poya Day is the day we commemorate the introduction of Buddhism to Sri Lanka by Arahat Maha Mahinda (son of King Asoka of India) at Mihintale in the third century B. C. Ven Mahinda Thera established the dispensation of the Buddha (Buddhasasana) in Sri Lanka.
The full-moon Poson Poya Day is noteworthy to Sri Lankan Buddhists as the day on which Emperor Asoka's son, Arahat Mahinda, officially introduced Buddhism to Sri Lanka in the 3rd century B.C.
In addition to the normal ritualistic observances undertaken on a poya day, on Poson Poya Day, devotees flock to Anuradhapura, the ancient holy capital city of the country, for it was there that Arahat Mahinda converted the then ruler, King Devanampiya Tissa and his court to Buddhism, thereby setting in motion a series of events that finally made Sri Lanka the home of Theravada Buddhism.
Even today, on Poson Poya Day, Anuradhapura becomes the centre of Buddhist activity. Mihintale, the spot where the momentous encounter between Arahat Mahinda and the King took place, accordingly receives the reverential attention of devotees. The two rituals of pilgrimage and the observance of the Eight Precepts are combined here. Processions commemorative of the event, referred to as Mihindu Peraheras, are held in various parts of the country.
---
Solving the 'mango riddle'
During their first conversation, Arahat Mahinda, in order to gauge the King Devanampiya Tissa's intelligence and capacity to understand, asked him some questions. This test, which can be regarded as the first intelligence test recorded in history, required a clear and acute mind to answer it.
The mango question and answers were as follows:
"What name does this tree bear, O King?"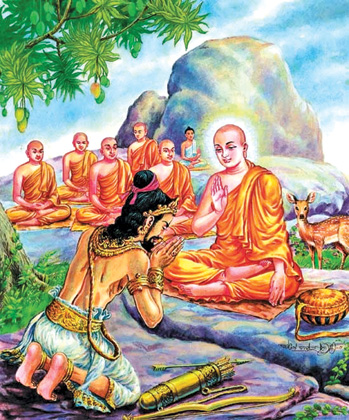 "The tree is called mango."
"Is there another mango tree besides this?"
"There are many mango trees."
"Are there any trees other than this mango tree and other mango trees?"
"There are many trees, Sir, but those are not mango trees."
"And are there, besides other mango trees and those trees which are not mango trees, yet other trees?"
"There is this mango tree, Sir"
"Thou hast a shrewd wit, O ruler of men."
Then Arahat Mahinda asked another set of questions which formed in the same format. Arahat Mahinda asked the king:
"Do you have relations, O king?"
The king answered:
"Yes Venerable Sir, I have."
"Do you have people who are not related you?"
"Yes Venerable Sir, there are many unrelated people."
"Except those who are related and unrelated, are there any others?"
This would have been a tricky question, as any one would think when the society is divided into related and non-related the entire population is virtually exhausted. Yet the king's mind was already fine tuned with the previous question to analyze it carefully and give the correct answer. He replied:
"Yes Venerable, Sir, there is one. That is me."
- Internet