SIMMERING BATTLE IN HILL COUNTRY
Thigambaram declares war on CWC's ministerial stakes:
Rajitha confirms eight MPs will join govt.: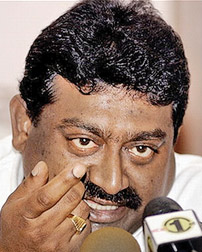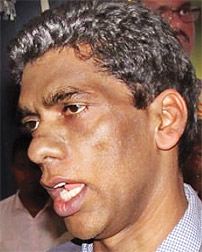 A fresh political battle is simmering in the hill country with the Tamil Progressive Alliance (TPA), a coalition partner of the National Unity Government, threatening to take stern political action if the government decides to offer ministerial portfolios to the Ceylon Workers Congress, led by Arumugam Thondaman.
Speaking to the Sunday Observer, Leader of the National Union of Workers (NUW) a constituent party of the TPA, and Minister of Hill Country New Villages, Infrastructure and Community Development Palani Thigambaram said they would strongly oppose any move to accommodate Thondaman's party in the Cabinet.
The TPA, which has six seats in the Parliament, is a coalition formed by the Democratic People's Front (DPF) led by Mano Ganesan, Up Country People's Front (UPF) led by V. S. Radhakrishnan and the National Union of Workers (NUW) led by Thigambaram. They contested on the UNP ticket at the last Parliamentary election.
Meanwhile, the Ceylon Workers Congress (CWC), led by former Minister Arumugam Thondaman, has only two seats in Parliament.
"Thondaman acted against President Sirisena at the last Presidential election. He forced our people not to vote for President Sirisena. How can he now join the government? How can the government accommodate him?" Thigambaram asked, while speaking to the Sunday Observer, on Saturday.
However, the Minister went on to say that the party has still not made a decision on leaving the government over the issue.
I have no intention of quitting the Government as I have made the biggest sacrifice on behalf of the President and the government at the last Presidential and General Elections. But we now have a problem. When six MPs who extend their support to the Government represent the plantation community, what is the purpose of giving ministerial portfolios to two CWC MPs?," the Minister questioned.
When asked about the development, CWC Chairman Muttu Sivalingam said Thigambaram had absolutely "nothing to do" with the affairs of the CWC.
"Only the President can decide on giving ministerial portfolios to the CWC. The government was not formed by Thigambaram's alliance.
"During the last 10 years, the CWC contested under the UPFA banner and we would continue to be there. At the moment, we are with President Maithripala Sirisena," Sivalingam explained.
Meanwhile, commenting on the matter, Cabinet Spokesman and Health Minister Dr. Rajitha Senaratne told the Sunday Observer that no such decision has been taken so far to offer a ministerial portfolio to Thondaman. The Minister said eight MPs from the Joint Opposition would cross over to the Government shortly, adding that he was not in a position to disclose their names at the moment.