The Dhamma Sermon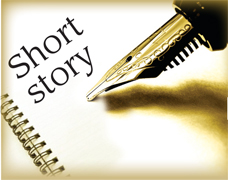 Nayana was deep in thought. Day after tomorrow is Poson Poya, the first Poson Poya she wouldn't be observing 'Sil' with her children. Her left hand was in a sling. Her husband Sunil, was an alcoholic, an absolute drunkard, who spent most of his earnings as a carpenter, on liquor. He would use obscene language never heard before, and assault her if his meals hot and spicy, were not ready when he comes. He had come home earlier than usual while she was putting the last stitches on her little daughter's "Lama-Saree", to be worn to the Temple on Poson day. She heard his loud singing, while walking up the garden path unsteadily, a sight she hated to see. Although the dinner was prepared, her delay in serving it onto his plate, roused his anger.
"What were you doing all this time, you...?" Before she could explain, he pulled her hair in a drunken stupor, and pushed her against the wall, which resulted in a fracture of her arm. She was a submissive, gentle woman who kept the home-fires burning with much difficulty. They had a son and a daughter- Ranga ten years and Deepthi eight years. What will their future be? She was awakened from her reverie.
Oblige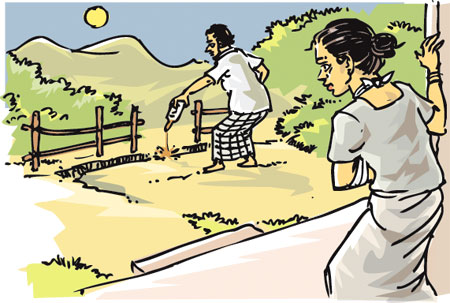 "How can we go to Temple on Poson day, Amma? The teacher told us we should go." That was Deepthi. "I will tell Mancho Nanda to complete your blouse and take both of you to Temple. She's so good and she'll oblige, as she knows what is happening here." "Why do you drink liquor thatha, wasting all that you earn, while we are neglected.
You abuse and harass Amma, and yet she's so good to you." Ranga the ten year old, spoke out his hitherto locked up feelings, like an adult.
"I will take the two of you to Temple", said Sunil, feeling quite ashamed. He didn't like Mancho's husband, who resented his drinking habits, and totally ignores him.
With the dawn of Poson, there seemed to be peace in the house. Sunil picked the beautiful white and cream frangipani flowers from the tree in their compound which was in full bloom. "We could have lunch from the Temple, or I will take them to a way-side Restaurant. Nayana, don't prepare lunch for us."
She saw, from the window, the three of them clad in white, Sunil carrying the basket of flowers, Ranga a bag with oil, wicks and joss-sticks, while Deepthi was holding tight onto the father's hand. What a spectacular sight it was, to Nayana. She had never seen the three of them together like this. It was like a picture from a fairy tale. Perhaps her fall was for the best. Her happiness knew no bounds.
Innocence
The two gates of the Temple were wide open. Many had observed 'Sil'. They want direct to where the Head Priest was.
"It's you Sunil! I'm extremely happy to see you".
He bowed low, and worshipped him. He had not sighted the Tempe for years. "And where's Amma?" he queried, looking at Deepthi.
They were silent for a moment till Deepthi, in all her childish innocence, and not wanting to blame her father, answered softly, "Thatha did not push her, but she fell and sprained her arm".
Sumanatissa Thera smiled. He understood. "Sunil, you must listen to the Dhamma sermons today." "Yes Hamuduruwane."
"You'll can have your afternoon meal here". They lit oil lamps, offered flowers, and held incense.
"Thatha, do you know the Gathas when offering flowers, and lighting lamps?"
He was silent.
"Take this Gatha book, and read it. We know them by heart." The sprawling Bodhi Tree, surrounded by a 'Ran-Weta', was awe inspiring. He sat on a cement bench and watched Ranga and Deepthi bathe the Bodhi Tree, going around it, carrying a pot of water above their shoulders. After their rituals at the Bodhi Tree, they came running to where he was, and sat on either side of him.
"There are Gathas to be recited to you and Amma, to show gratitude to parents for caring for us". Do I deserve it, he asked himself. Deepthi began, "Uddikaro alingitva...", but Ranga stopped her.
"We'll fall down at their feet, and recite it for both, together, when we go home".
They partook of a vegetarian lunch which Sunil enjoyed. The "Dharma Shalawa", was crowded with those who had observed 'Sil'. The three of them sat on a bench at the far end.
Foundation
The Dhamma sermon commenced. The Venerable Thera spoke of the significance of Poson, and of the Sublime Teachings of the Buddha, which envisages adherence to the five precepts, in the life of a layman. It is, he said, a basic foundation to the Buddhist way of life. He spoke at length on the fifth precept - highlighting the dangers of being addicted to intoxicants.
"Life as an alocholic is a life of torture, and hell or earth. Drunkenness expels reasons, is a thief to the purse, a wife's woe, and children's sorrow."
Sunil listened. The Venerable Thera continued.
"In the "Surapana Jataka", the Buddha shamed and admonished those who drank liquor, which made them lose their senses and behave in a disgraceful manner, dancing and singing, dashing vessels on the ground, uttering gibberish.
If one loses control of one's senses, is it worth drinking it? Sunil felt guilty. "An alcoholic's children are to be pitied. They live in fear. They should have the love, care and attention of both father and mother. How can a father who consumes liquor, comes home drunk, and assaults his wife, create a peaceful and happy atmosphere, where the children can grow up well? Children need parental love and guidance."
Little Deepthi cuddled close to her father, while Ranga looked at his face. Sunil's heart cried out in remorse. His guilty conscience pricked him at every turn. The Venerable Thera concluded his sermon by saying that a man who drinks alcohol finally ends up as a diseased, helpless Beast. "Summon all your will-power, and abandon this vicious practice, Today, Now, from this instant."
Nayana saw them coming home, climbing the slope, the two children holding Sunil's hands. As they neared the house, Deepthi came running ahead. "Amma, did you feel lonely?" "No, I was reading some Dhamma books about the Buddha, and felt He was close to me with his Teachings." "Dinner is ready Sunil".
"No, I will skip dinner today. Let the little ones eat". A change had come over him, she felt. Ranga and Deepthi were asleep. She didn't know where Sunil was.
She moved the curtain a little, and peeped into his room. He was opening the cupboard where his drinks were kept.
He took a bottle out. She almost screamed with disappointment. What is she in for? He walked outside with the bottle in his hand. He opened it, poured the contents down the drain, flushed it with a bucket of water, and threw the empty bottle into the garbage bin.
She moved forward. He wiped his feet on the gunny outside, came close to her and placed his hand on her head.
"From now on, I will not take any intoxicants, and will give up the vicious practice I indulged in." Through the veil of tears in her eyes, she saw the compassionate Buddha, looking down on her. She heard the temple bells ringing, and voices of Saadhu Saadhu resonating in the air.