Poson from an environmental perspective
Poson Poya is one of the most important days in Sri Lanka's Buddhist calendar, as it was on a Poson Poya day that Arhath Mahinda from India, formally introduced Buddhism to the people of Sri Lanka 2266 years ago (ie. 250 BC) to lift the veil of ignorance of the society and ultimately lead individuals to the supreme emancipation or Nibbana. In fact, the story of Arhat Mahinda and King Devanampiyatissa, which involves a deer and a mango tree, clearly depicts the importance of preserving the environment.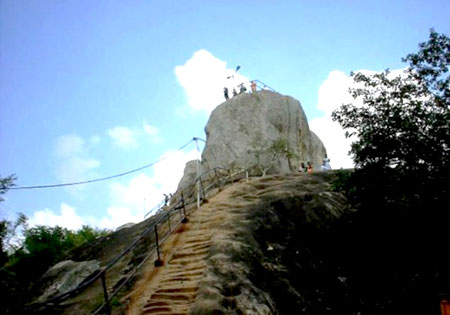 In Sri Lanka, the advent of Venerable Mahinda Thera not only established the Buddha Sasana but founded the value system associated with it. This value system placed a great emphasis on protecting and preserving the ecosystems for the well being of mankind and all living beings of present-day and the future. Other than this value system, there is no other place to look for learning sustainable development, which has now become a buzzword in almost every country and is a vital factor for safeguarding ecosystems.
Disheartening
Nonetheless, it is certainly disheartening to see many anti- environment activities in a land where such a value system was inculcated and existed for over two millennia.
Sri Lankans of this era are marking this very significant day of Poson Poya at a time the world is experiencing natural disasters of many types and different magnitudes. But the intellectuals who are cognizant of the real root causes of these phenomena have constantly been of the view that these are not mere natural disasters but man-made tragedies. Also, the environmental pollution caused by man's irresponsible acts is serious. People of Sri Lanka who are really knowledgeable of the environmental matters and are genuinely concerned of the dangers that can befall on the country due to man's improper treatment to the environment have always been voicing their concerns, but, most of the time, to no avail.
Benefits
In most instances governments and people have chosen short term benefits, which could be financial benefits or others, disregarding what could befall on the environment owing to their activities, ranging from using harmful pesticides, weedicides and toxic fertiliser to unplanned and unmanaged acts of environmental destruction such as senseless falling of trees done in the name of development and blasting of rocks to fulfill needs. Even the monetary losses the country has to bear consequent to natural disasters, the prime cause of which is environmental degradation, are immense. Those losses totally negate the short term benefits the country is gaining through improper handling of environmental matters.
Recent devastating landslides in Aranayake and Bulathkohupitiya which killed around thirty five people and badly affected over five thousand people are two real examples. All these disasters have man's conceited and self-centered treatment to the environment as the root cause. No one knows what the future will hold for the country if the environmental degradation continues.
Mindful
Should the government and people of Sri Lanka become seriously mindful of the very necessity of compromising on short term advantages and take all possible steps to preserve the environment and the high price to be paid for not doing so, at least the future natural disasters and other calamities that will be triggered by environmental issues could be minimised within Sri Lanka.
Thus, there is no other better time of the year than the Poson season for the people of Sri Lanka to contemplate on this matter and make a solemn determination and an effort to take better care of their environments for protecting and nurturing own ecosystems for the wellbeing of all and to grasp the true meaning of sustainable development. Also, it is very prudent to draw the country's development plans in line with sustainable development necessitated by this value system.